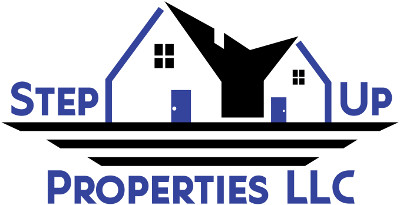 Joe, the owner of Step Up Properties LLC, contacted us a in mid-December asking for help getting a logo designed. We explained our costs and how we create the logos – which was right on target with what Joe needed. He filled out the logo questionnaire promptly and attached a few sketches of logos he had in mind.
Our logo designer began working on the logo and submitted several examples to Joe. A few small modifications were made to the logos per his request – and Joe wanted to "purchase" two of the logo designs from us. Only one of the logos is shown here, however.
We supplied the necessary files for Joe for the two logos he liked – with giving him a 50% discount on the second logo choice since it was already created.
We appreciate the logo design business from Joe and Step Up Properties LLC!