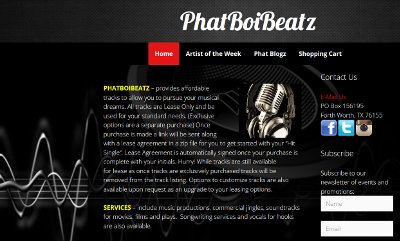 Rico, the owner of Phat Boi Beatz, contacted us a few weeks back for a website design request.
Rico creates music tracks that he wants to make available for artists to use for their songs.  Therefore, he wanted to have a website that would allow them to play a sample on the website and then purchase the song.  On top of that, he also needed the ability to have the download be a ZIP file that contained a lease agreement and the music file – that would be able to get downloaded immediately upon payment.
Once we got the requirements from Rico, we started on his website right away.  The cross-compatible music player was embedded on his home page so it would be a listing of all the music tracks that he has for purchase.  Then, it was integrated with a download payment system that will allow them to add the tracks to a cart, pay with PayPal, and then be e-mailed the link to the downloads they purchased.
Rico has approved of the site and is very pleased with the results that BsnTech Networks provided him, especially based on the cost for the site that he had in his budget.  He has already mentioned that there were a few individuals that were also looking to get websites similar to his, and that he would refer them to us because of our pricing and the ability to make him exactly what he wanted.
We appreciate the business from Rico!
The Phat Boi Beatz website is at phatboibeatz.com.