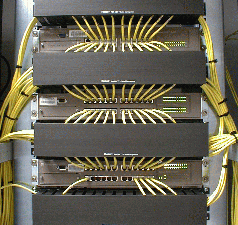 Networking is one of the keys to a company's success!  It is almost impossible to run a business without the use of some type of computer system – either a cash register for purchases, a computer to check company e-mail to answer questions and inquiries, or a computer to crunch the numbers when it comes to accounting.
Did you know that when you connect to the internet, you are connecting to the "worldwide network" with billions of computers connected to it?  A computer network can range from two network devices, such as two PCs connected to each other, to millions of computers connected across the globe.
Home networking is on the rise as families are beginning to have more than one computer in the household.  The parents typically have their own desktop PC or laptop and the children have their own PC to use.  Therefore, those with a broadband Internet connection such as DSL or Cable Internet, are looking to share this one connection with multiple PCs located within the house.  We can quickly and securely setup your home network so this can become a possibility!
Personally we are always concerned when a home user sets up a wireless network within their residence.  Unfortunately, average users lack the knowledge of properly setting up a wireless network and leave themselves wide open for attacks, lawsuits, or other possible harsh consequences.  The problem with wireless networking over traditional wired networking is that those network signals are sent out just like radio/tv station signals.  Wireless networks are becoming increasingly  popular and the equipment's ability to have a very large range is increasing.  Did you know that if you placed a regular wireless router outside on top of your house, you could theoretically connect to it more than 1/4 a mile away?
This is why we are concerned with wireless networks and the home user.  Most of the time home users simply setup just the basics required to get them going and do not worry about security, encryption, or broadcasting their network "name" over the air so people sitting outside of their house along the road can pick up their signal and use their network.  This is where the dangers begin.  That user could potentially send out spam e-mail through your Internet connection or do several other illegal activities and make it look like you were the one who did it.  They could also take control of your PCs and steal financial data or other "secrets".
Wireless networks can be setup in a safe and secure manner to ensure that only computers with a variety of configuration parameters can talk on the wireless network and use it.  This is our specialty, and we can ensure that you have a hardened & secure wireless network without the worry of having an open network.
We have installed wired networks for a few small businesses.  Networking in the business increases productivity and allows for easier access to information from any computer within the organization.  It also aids in research and the ability for all PCs to share printers, files, and an Internet connection.
Costs for Network Installation
Home Network Security Audits
For a flat fee, we can do a security audit on a home network for problems mentioned above with security.  This is an often overlooked problem.  In some communities, you can drive through a neighborhood with a laptop in the car and pick up two or three wireless networks.  This shows how large of a problem security is when it comes to wireless networks in the home. We will come to your residence and perform a security audit for a flat fee of $75.00.  The $75.00 will also include the hardening of your network by implementing security keys, computer configuration, and hiding your wireless network from even being seen by unsuspecting users.
Home Network Infrastructure Installation & Configuration
We can provide basic network installation services whether it be to share an Internet connection at home through a wired or wireless network.  Our technicians are CompTIA Network+ Certified indicating their knowledge when it comes to the installation of your network and the configuration required on the PCs. We charge a fee of $50.00 for the housecall which includes the first hour, and $25.00 for every additional hour spent configuring the network.
Small-To-Medium Sized Business Installation & Configuration
We can simply setup a small network such as a home user network, to larger tasks that may include configuration of Cisco routers & switches in larger organizations.  Network services are charged at $75.00 for the first hour and $50.00 per every hour afterwards.  If any Cisco equipment must be configured, the charge is $75.00 per hour.