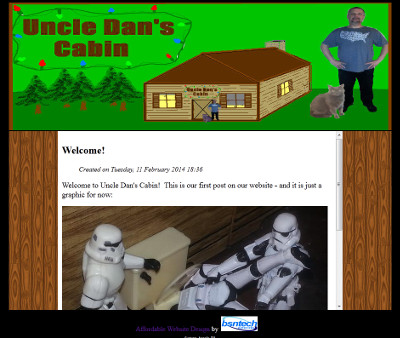 Dan contacted us back in January asking for a quote on a website. He wanted a website that allowed him to go on the site periodically and post his wisdom, thoughts, and some comedy from time-to-time. In essence, he wanted a blog website.
Upon receiving his initial payment, we sent out our checklist of things we need to start on his site. He replied a few days later with specific screen shots of how he wanted the site and provided us a banner that he personally made which he wanted on the top of his site.
The banner was made in Paint and he did the best that he could, but we offered our graphic design services to make something that looks more crisp and professional. He is contemplating having us create a new graphic for him.
In the meantime, he wanted to get his website online so he could start posting and sending his website to family and friends.
We appreciate the business from Dan with the creation of his personal website design!
Dan's website is at uncledanscabin.com