Before starting on the gardening updates, here is what is going on with the bathroom project.
This week there were some boards put between the studs in the wall so that towel racks and other items have something to grab onto once they are installed.
After that, black plastic was then put around the entire room as a moisture resistant layer.  After the black plastic was up, the concrete backer board was applied around the tub – which the tiles will be adhered to.
You can see in the picture above that the black plastic is wrapped around the walls.  I used a staple gun to hold the plastic in.  Then the backer board was put behind the tub.  Two more pieces were also put up after this photo was taken; one on the front and one on the back of the tub.  We had to pick up another piece of concrete backer board because I've decided to run tile all the way to the ceiling.  Originally I was only going to go up five feet, but decided to do the entire thing.
I also worked on putting the last coats of varnish on the cabinet and vanity.  After that was done and I let it sit a few days, I brought the vanity inside and put the vanity top and faucet on.  Looking pretty good!
My dad stopped by again on Sunday and we had quite a bit of work to do.  He started off by getting all of the plumbing done for the toilet and hot/cold water lines for the sink.  Originally there was galvanized pipe and it was needing to be replaced.
After that, we began putting drywall up on the ceiling.  Well, I had forgot that because we were putting drywall over the existing drywall, this was a one-inch thick piece to screw into.  The screws we were using were 1 1/4 inches and they were not long enough to really hold in.  Not to mention that the ceiling joists were not playing nice and we had trouble locating them.
So we had to run back to Menards to get a few PVC items, the next piece of concrete backer board, and a few other odds n ends.
Got back and put up the rest of the ceiling.  The walls were then all put up and my dad started doing all of the drywall compound work.  This is something I'm not too good at; I know how to make a mess with it and apply it to the drywall, but when it comes to making a nice smooth finish, I haven't been too successful doing that.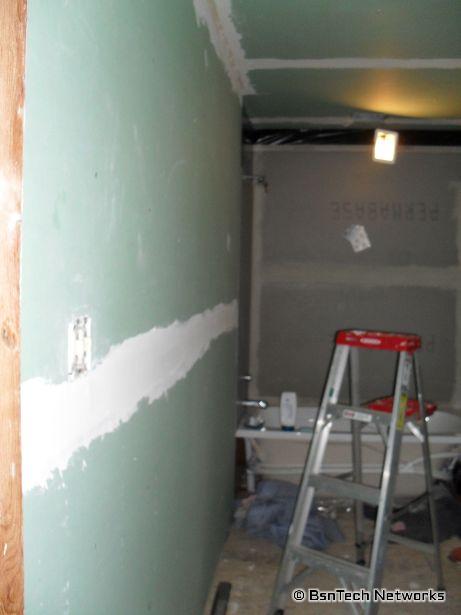 Still a bit left to do.  I still need to get more screws in the ceiling to hold that better, cut and install the last bit of the concrete backer board, and fill the screw holes with drywall compound.  Probably another week or two weeks and the walls and ceiling will be ready for painting!
---
Moving on to the garden.  I've slacked off again this week and didn't do very good with watering the garden.  I got up earlier this morning to go out and water the gardening areas.
However, I did manage to pick some things from the garden.  So far we've collected a little over 20 pounds of tomatoes and I dug up about 10 pounds of potatoes off of ten plants.  The potatoes in the potato bin were very nice – and were the best producers.  With the bin, it was originally built to be one foot deep.  Then as the potatoes grew, I just added a six inch layer of mulched leaves.  Out of the six potato plants in this bin, I would say that it was about eight pounds.  I then dug up about four potato plants behind the garage and they were not as good.  However, I may not have dug far enough either – so there still may be more potatoes in there!
What to do with all of the tomatoes – welp, we made some salsa again!
We filled up 12 quart jars of salsa from 20 pounds of tomatoes.  We mixed in 24 ounces of tomato paste, about six cups of onions, 3.5 cups of lemon juice, the cilantro from the garden, some basil from the garden, oregano, and about three pounds of peppers from the garden.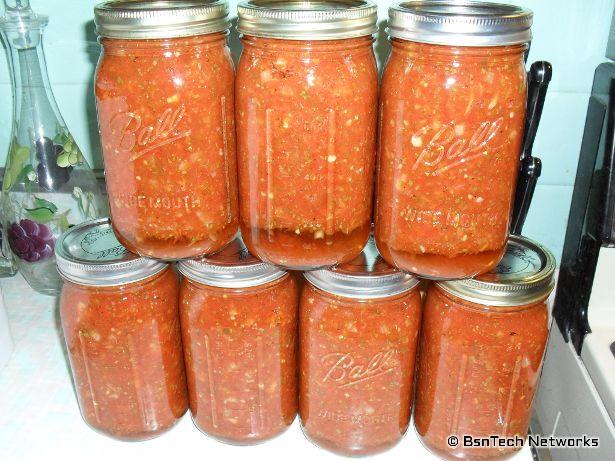 Looks good!  However, it was a bit more soupy than last year and you can see in the jars above, there is a lot of water on the bottom.
Speaking of onions – last year when we made salsa, we had to cut the onions up by hand and used a food processor to really make them small.  This year I wanted to have a bit more chunky salsa – and we got this onion chopper.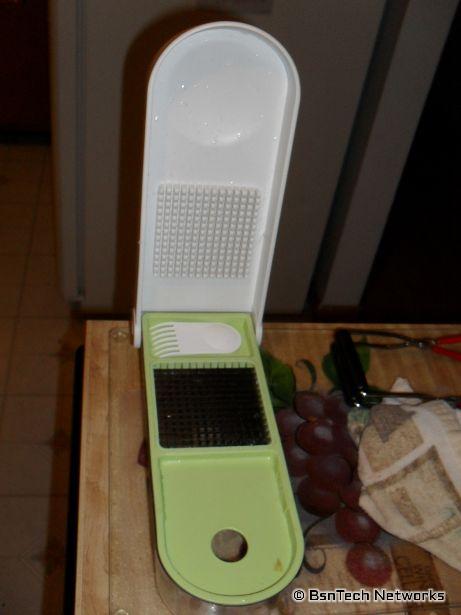 This thing works wonders!  I cut the onions in half and then placed the flat side on the cross-hatched blade area.  Gave the white lid a good push down and it chopped the onions into perfect-size little squares.  It does take quite a bit of power to get the onions to fully chop – so much that you feel you are going to break the chopper!  I'm sure it will eventually break from all of the pressure, but it works very well!
While the water bath canning pot was still out and rolling to a boil, we also cut up the cucumbers from our garden to make spear pickles.  Last year we made slice pickles for use on hamburgers and such, but we really haven't used many of them and have cans left.  So this time we made some spear pickles.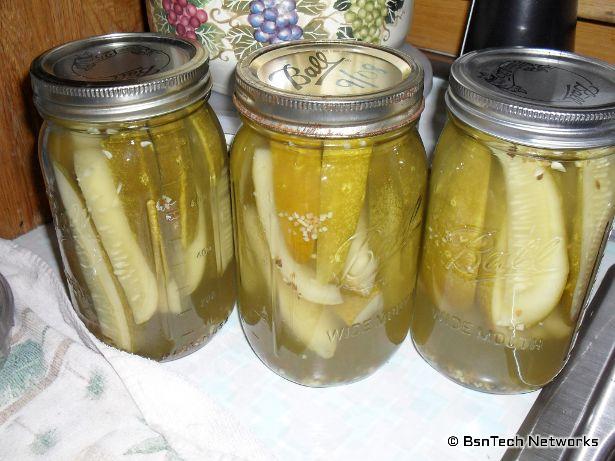 Some other gardeners mentioned to me about adding epsom salt to your peppers and tomatoes.  Well, I opted to try it.  The peppers are growing, but they are just not producing like they did last year.
So I took about one tablespoon of epsom salt and sprinkled around the trunk of each pepper plant.  While I was at it, I also put some around the tomatoes as well.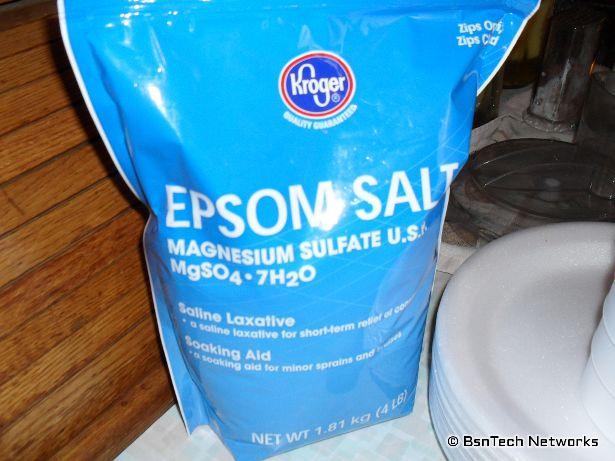 We'll see if this does any good.  Epsom salt – as in the photo above – has a lot of magnesium in it that peppers and tomatoes need to produce good-sized fruits.  So this is basically a fertilizer.
Well, what else is going on around the garden.
This is the carrot bed that has had all of the potatoes pulled.  The potato bin was right in the front and the carrots behind.  The carrots really need picked – but just have to find the time to do it!  It takes a lot of time to pull all of the carrots, cut off the tops, and wash them good.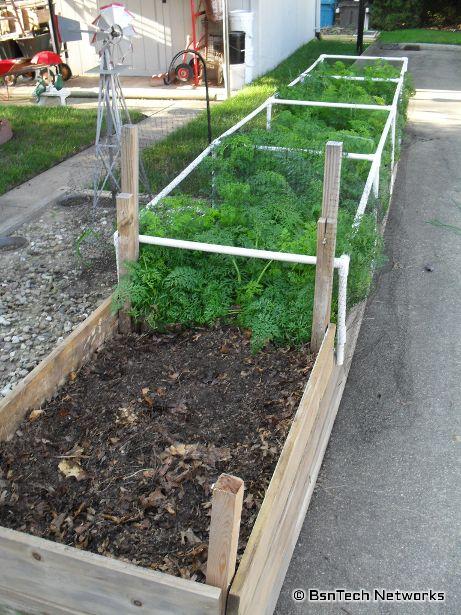 The back garden is slowly beginning to die off.  That is because the potatoes are needing to all be picked.  That is going to be a big task.  Planting potatoes is no big deal – but having to dig all of them up is going to take a substantial amount of time.  The cucumbers weight is pulling the fencing down too – so hopefully it will last to the end of the year.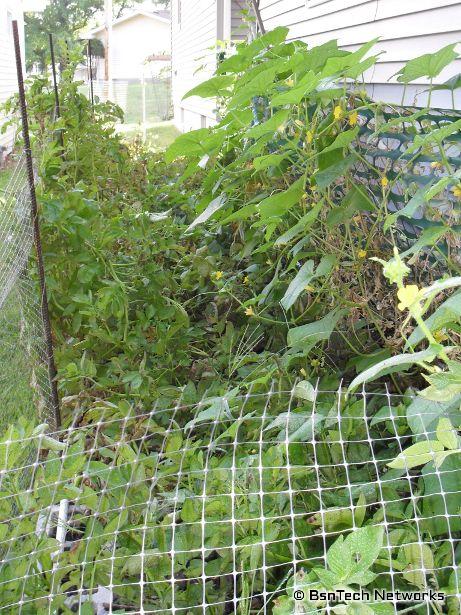 Speaking of cucumbers – these things must grow fast!  I was just out picking things a few days ago and somehow another yellow cucumber is huge and growing!  Another one I need to pick today!
Moving to the patio garden with the basil and green beans.  The green beans in this bed are growing very large and bushy.  Just hopefully we'll get some green beans from them.  Hasn't been a good year for green beans around the garden for some reason.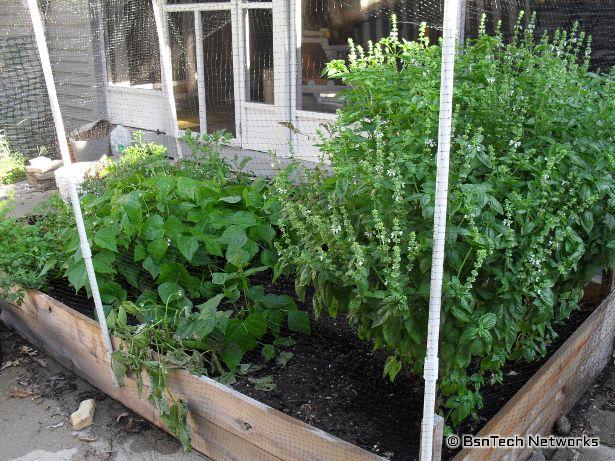 And the front garden.  All but just a few stalks of corn are left.  The corn needs to be taken down because I don't expect there to be any usable ears.  Green beans have been planted in this entire area – but again, they just don't seem to be growing well – or are not germinating at all.  I gave them a good compost tea feeding on Friday so maybe this will help a bit.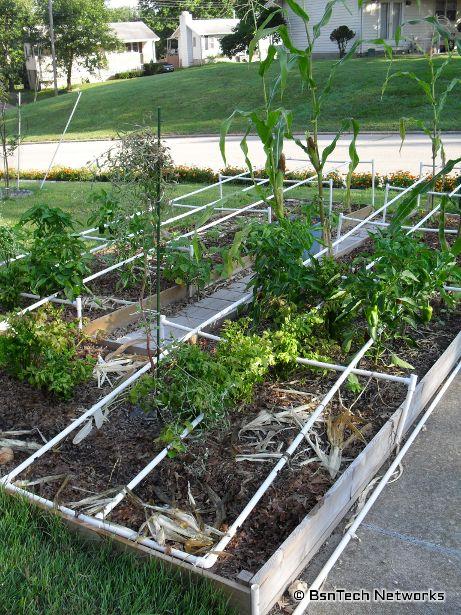 And lastly – I thought I'd take a photo of the radish seed pods.  Some of them are finally beginning to turn brown.  Hopefully the seed in here will be good so I can use it next year.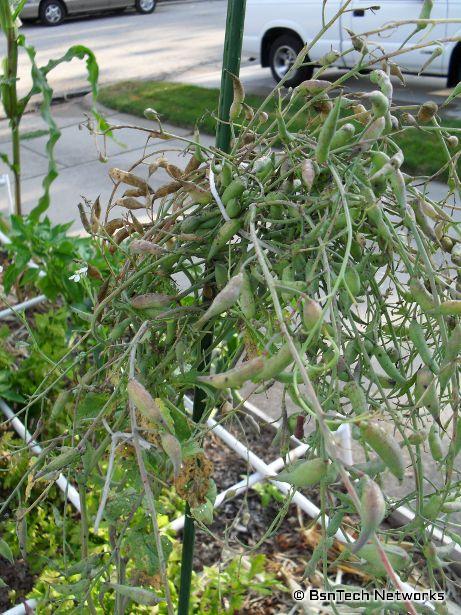 That is all for this week!