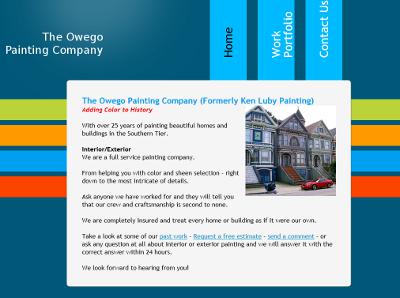 Ken Luby tried to make a website himself. He didn't want to continue trying to make a website that may have made his company look unprofessional. That is why he contacted us here at BsnTech Networks to make a cheap website design from him. What he got was something exceeded his expectations.
Ken Luby has been a painter in the Owego, NY area for over 25 years. He changed his business name to The Owego Painting Company and therefore wanted to get "with the times" and create a website for it.
We were contacted last week and Ken made the payment on Saturday. A couple days later, he sent us the pictures to add to his picture gallery, the content for the home page, and in four days he had a fully functioning website.
BsnTech works quickly and efficiently to create affordable website design services to all of our customers. With the quality of the sites received, the timely delivey, and the low cost, customers continue to come back to us to do more for them.
Ken was happy with our work – and said that he will be starting another website with us in a few months for another endeavor he will be starting. We appreciate the vote of confidence from Ken with our services.