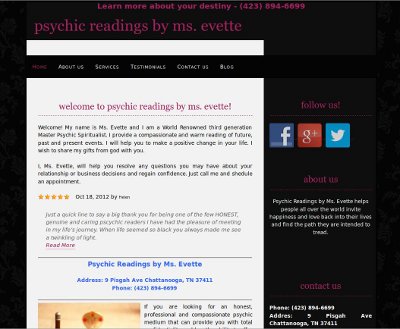 Ms. Evette contacted us a few weeks ago about her interest in having a website created. After several phone conversations with her, we explained everything completely to her. She later discovered that she had two websites online already – but had no idea who had created them, where they were hosted, and whether or not they would expire when the domain names expire in less than a year.
In other words, she had two previous website designers that have lost contact with her and haven't provided any support or information regarding her websites.
After working with Ms. Evette over the phone, she was completely pleased with our response and how well we explained everything to her. She opted to go with the route of having us host her website, get a new domain name for her, and then make a copy of one of her existing websites and put it online for her. She was concerned about her losing her website, so we did our best to preserve it.
This also saved her considerable cost as well. Instead of creating a new psychic website design for her, we simply made a copy of the one she already had and set it up. She was very cost conscious and wanted to keep the costs as low as possible.
We had Ms. Evette's payment taken and her website copied and fully online within two hours of each other! When we get an order for website services, we work as quickly as possible to ensure complete customer satisfaction.
Ms. Evette was so pleased that she has already gave out our information to a few of her contacts and let them know to contact us if they need any kind of affordable website design!