Recently I have been wanting to get some type of automatic watering system setup for the garden. Last year I used an automatic timer that would kick on at 9 pm and run for 30 minutes using about 50 feet of soaker hose. This year, the garden has really grown in size (and split between three different locations instead of one).
I wanted to ensure that the water was only going to be used where it really needed to be. For example, soaker hoses will put out water all along the hose. Well, since tomato plants are about four feet apart, this was a waste since water didn't need to be used along the entire hose.
Researching online, I came across a University of Utah guide on how to setup a PVC irrigation system. In this article, there is a guy that has about a 1/4 acre garden. He used 1/2 inch PVC pipe along with several fittings to automatically water all of his garden. The benefits to this over just watering your garden on a schedule is that it saves water, cuts down on weeds, and also saves time for the gardening because there isn't any watering that has to be done manually and also saves time because there are quite a few less weeds in the garden to pick – no water for the weeds, no weeds will grow. This is what is great about this system – it targets the areas that you need to water.
After researching, the University of Utah discovered that it is best to drill 1/16 inch holes into the PVC pipe – nothing larger nor smaller. So I used the same bit as well. Most of all of my PVC pipes had holes drilled every six inches. This is because of the peas and green beans that I'm growing – which are all six inches apart. The one difference was with the tomatoes – I drilled three holes – all two inches apart – just where the tomato stem was.
What is also great about this system is that there are many different fittings you can use for PVC piping and that this system is quite adaptable. If you grow your tomatoes or a different kind of veggie, then you can change out your PVC pipes in those areas to better match your needs with the holes in the pipe. For instance, next year where I have the broccoli and cauliflower, I will use pipe with three holes drilled two inches apart – every 18 inches. I space those plants out every 18 inches.
I put all of it on a timer and this year I set it to every other day at 7 am. While more research shows that it is better to water plants in the morning, I really also wonder about that because that leaves all day for the water to evaporate. Last year I had it automatically irrigate at 9 pm – so the water at least stayed overnight – so which is better?
Here are a few photos of the system I have setup – although it is a bit hard to see. The most expensive part of the system was the connector between a standard 5/8-inch hose to a 1/2 inch PVC pipe. I had to purchase two of them at $5 each. Otherwise, the fittings ranged from 10 cents to 30 cents – and the 10-foot sections of PVC pipe were on sale for 78 cents when I bought them. Total, I spent about $40 on the complete system that will last for many years (longer than soaker hoses too!).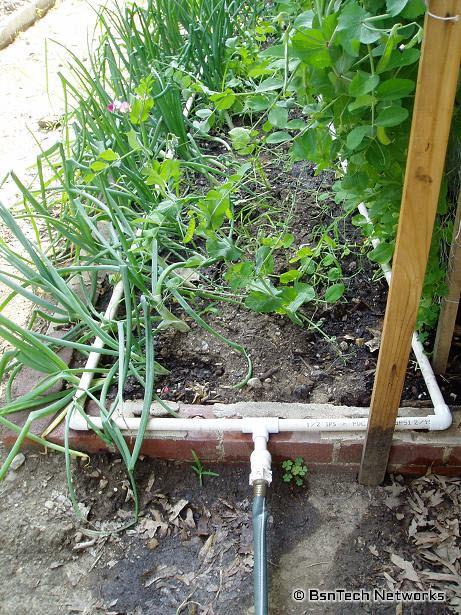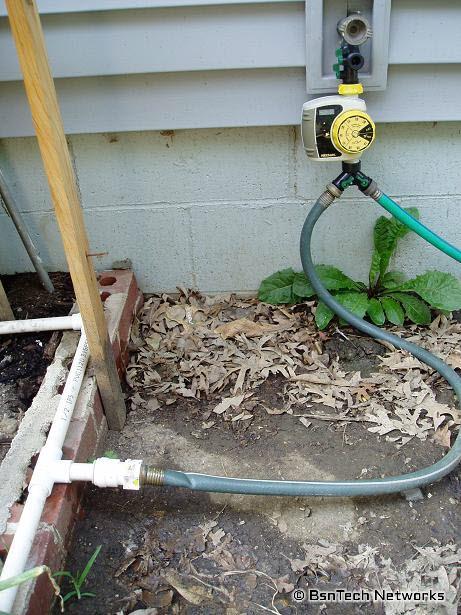 The above shows the automatic timer with a Y-adapter just afterwards with on/off regulators. The hose off to the right is going all the way around to the front of the house.
Meanwhile, the garden still is doing nicely. The carrots and broccoli/cauliflower are coming along so well that they are actually pushing the bird netting off the PVC pipe!
The potatoes are beginning to put on their flowers.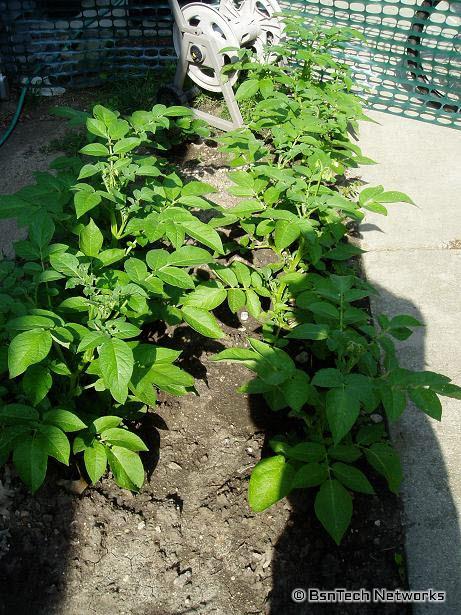 The broccoli is huge and I'll bet it will be picked tomorrow. There are about four of the eight broccoli plants with these large heads. I am not going to wait for the smaller shoots on the side because I'm anxious to get some green beans in this space so I can get a summer crop in the same spot as the spring crops!
Wow, remember what that looked like only a week ago! It has at least tripled in size – if not more!
The beans that have already been planted are doing well too.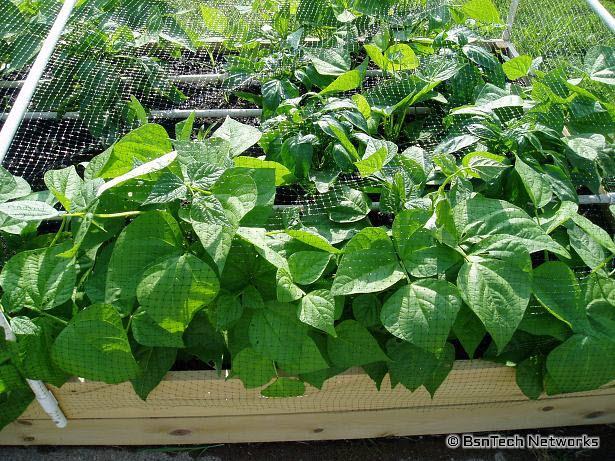 The peppers just behind the beans have also put on multiple flowers so the peppers will be coming in soon as well.
Lastly, here is the back gaden with the three varieties of tomatoes and half of the peas. I will be picking the third bunch of peas this evening when it cools down a bit – but all of the tomatoes have already grown to the top of the tomato cages. There is a small Best Boy tomato growing on the second plant too!