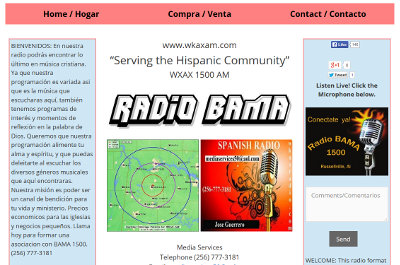 Jose from WKAX AM 1500 contacted us last week needing to get a website setup for his small radio station. He wishes to spread awareness of the station and allow the ability for listeners to go to the site and submit comments to him – or listen live from the site.
Jose sent us a PDF file of how he wanted the website to look. After a couple of modifications to that file, the site looks identical to the files that he sent us.
He was very pleased with the attention to detail and the turn-around time that we provided him to get his website online.
Later one, Jose plans to add a classified ad section to the site to allow listeners and the general public to post classified ads on the site. This will be a second phase of the project down the road.
The website for WKAX AM is at wkaxam.com.