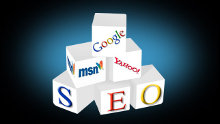 Does your website need some marketing power in order to get higher up on the search engine results?
At BsnTech, we have some solutions for local SEO service.
Note that any search engine optimization (SEO) services are not guaranteed. We cannot control what Google, Yahoo, and the other search providers do with your website. In addition, there are keywords that are exceptionally hard to rank for – so it is very important to provide keywords that are very targeted to yield better results. If you simply have us start an SEO campaign for "web browser", your site most likely doesn't have a chance compared to the very large players – such as Microsoft and Mozilla. Therefore, it is important that you are very specific – such as "Self Storage in Valdosta".
Our Search Engine Optimization packages are targeted towards customers that are going after local rankings – typically phrases that are at least three words or more. Even then, depending upon your budget and the keywords you are targeting, it may take several months for your site to rank.
We do not require you to sign any kind of contract or agreement for Search Engine Optimization work. Our SEO services are one-time campaigns – meaning you can elect to choose a different package whenever you like. Each campaign usually takes about six weeks to complete. Approximately four weeks for the actual SEO work to be done – and then we allow for two weeks for some of the campaign to take effect.
We provide a simple report to you – showing each of the phrases you targeted and where you rank within the three main search engines – Google, Yahoo, and Bing. Before any work is started, we'll give you a report on where you rank. Then, once the campaign is completed and we've waited two weeks to let some of the work take effect, we'll give you an updated report.
Search Engine Optimization is not just a one-time thing – although our campaigns are done whenever you request them. SEO is like any advertising campaign – and if you stop the SEO services, your site will slowly diminish in the rankings. In some cases, there have been customers that have been able to stay at close to the same ranking for a few months with no additional SEO service. Other times, they immediately decline in rankings. The difference is completely based on the competition and if any other businesses are targeting the same phrases.
In general, we have been successful with getting some customers to the front page of the search engines – even sometimes at the very top! However, do note that the keywords you choose – and your budget – dictates at how well you rise in the search engines. We do not recommend using our services for nationwide SEO.
Basic SEO Package
This package is $150. We submit your site to approximately 150 different websites using the URL (website address) you specify along with up to three keywords. You can give us three different website addresses – but they must all be in the same domain (such as bsntech.com).
Robust Package
This package is $250. We submit your site to over 300 different websites that are well-known on the web for extra marketing power.