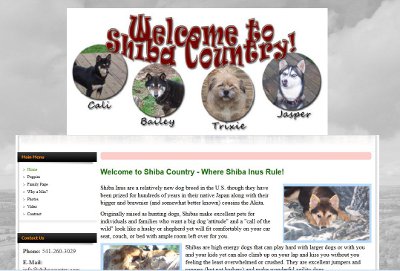 Cheri – the owner of Shiba Country – contacted us over a year ago inquiring about our rates and service offerings. With her busy schedule, she had some time to get started on her website re-design.
Cheri originally had another website that was made from another designer. However, she wasn't able to easily update the website and was lost when it came to doing those changes. Because she is a dog breeder, she needed the ability to update her website with the new litter of pups that she had available for sale.
In addition, Cheri had branched out to making YouTube videos as well and couldn't figure out how to put these videos on the site.
BsnTech helped her through the entire process. We did a full website re-design for her although much of the same pictures and artwork was used at her request. We copied over each of the pages from her old website and put it into a Content Management System (CMS). By doing so, this allows her to go into her website – without the use of any software on her computer (other than a web browser) to update and make changes to her site.
BsnTech then had a screen-sharing training session so we could show Cheri how to update her pages, embed videos into her site, and answer any other questions she had about managing her own website.
Cheri was exceptionally pleased with the service that we offered that she will also have us re-design her second website as well! We look forward to starting on that project for her – and becoming her one-source solution for website services!