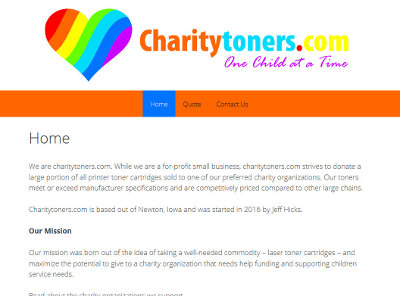 Jeff contacted us several months back about website design services. He wanted to try and create a business that would help charitable organizations by passing on a large percentage of profits to organizations in need.
After a couple of months from his inquiry, he decided to get started on the website. He wanted to stick with our basic website design service because he had a small budget. We helped him out and provided a free contact form for him as a show of good faith towards our contribution to his efforts to help these organizations.
In addition, Jeff decided to also have us create a logo for him, which is shown on the website as well.
We appreciate Jeff's business and look forward to providing support to him for as long as he has the business!
The website can be found at charitytoners.com.