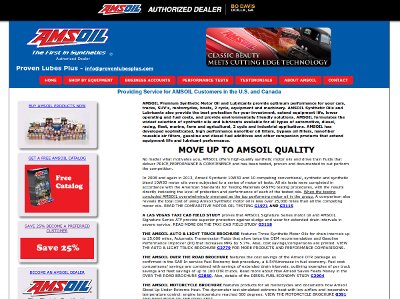 Bo, the owner of Proven Lubes Plus, contacted us about a month ago in regards to creating a website for his authorized Amsoil dealer business.
Bo gave us specific instructions on what he wanted on his website, how he wanted the website designed, and specific affiliate links that would link into the Amsoil site so he could receive revenue for anyone that used his site to make a purchase on the Amsoil website.
Upon getting all of the specifications and information from Bo, we went to work right away.
Bo was very pleased with how quickly we got his website up and running for him. Therefore, he awarded us with some extra business with creating a slideshow that appears at the top of his website.
After another round of changes that was just received last night, Bo has now approved of the website and was ready for it to go live.
We appreciate the business from Bo and Proven Lubes Plus and hope that we can also help anyone else with their next small business website design need!
Bo's website is at provenlubesplus.com