What a strange question – does sowing depth matter?  The answer…. yes… at least for onions!
I have had a difficult time this year getting onions to germinate or grow properly.  So much that with the last post, I fully re-seeded at least 300 Copra Onion seeds.  At this point, I had figured it was completely because the onion seed was one and two years old.
But alas, major success!  With the newest seeds, they were all covered with about a half inch of soil in each of the containers.  A really good germination rate so far from them.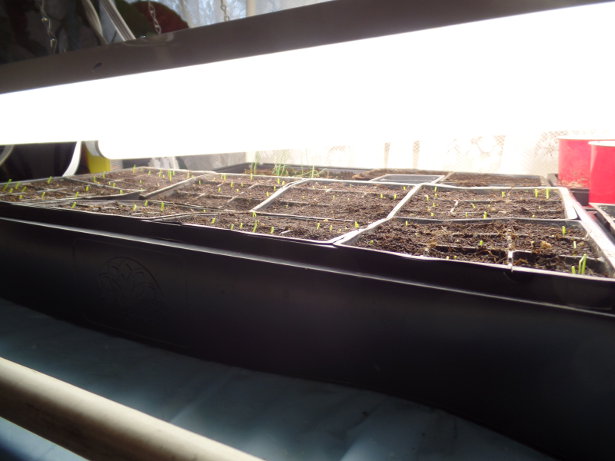 Look at all those little sprouts!  In all of the little square areas, I planted four seeds.  In many of them, all four sprouted.  Here is the odd thing though.  The original onion tray (in the back of the picture above), I took out a lot of soil and put in the black plastic square containers.  Re-filled them with soil, put the seeds in, and buried them… just like the tray in the front of the picture above.  But how many have sprouted there?  Zero.  None.  Well, in each of those containers, I did only plant two onion seeds.  But it is still odd that absolutely none have germinated.  I put water under the containers – so no differences there.  But maybe since there is still soil directly in the tray itself and not those square black plastic containers, it wicked up the water before the square containers did.  Not sure, but either way, it looks like we should be set with onions for the year now.  With having four sprouts in some of them, it will be fun trying to untangle those.  Really dislike thinning seeds out, but it may be necessary this year.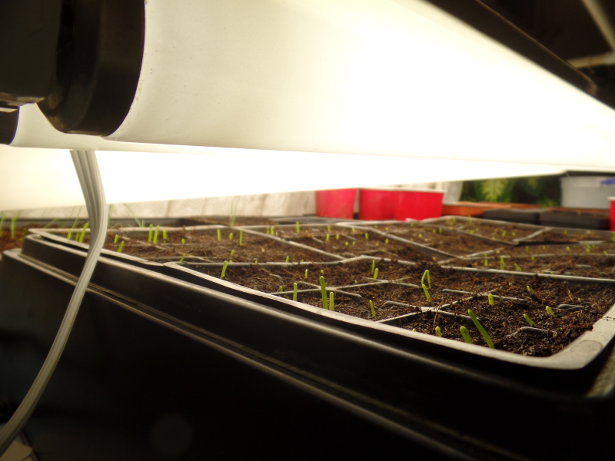 With the celery, that has certainly been a lost cause.  Two celery plants seem to still be surviving.  The other one most likely is not going to survive.  With the other celery planted last week, none of those germinated.
So it was time to clear out some of the celery cups.  I don't have as much room under the 'germination station' as I have in year's past – since everything is on one of those fold-out banquet tables.  They are not as wide as where I originally have been growing seeds every year – which was downstairs in the basement on the large pool table with plywood over the top.
The majority of the garden has been seeded now… at least those that are started indoors.  Three Best Boy tomatoes, four Roma tomatoes, one Red Cherry tomato.
Two California Wonder peppers and six other sweet peppers.  Last year, I saved some seed from sweet peppers that were purchased at Aldi.  Everything I read said they were hybrid and the fruit would not be similar to what was purchased at Aldi.  Well, last year the peppers that grew from those seeds were pretty darn close!  Some were larger and some were smaller, but they still tasted great.  Last year I also planted some Anaheim Hot Peppers but this year, they won't be coming back.  I found the skins of those peppers to be very tough and not pleasing.
Then the lettuce was planted; two each of Parris Island, Simpson Elite, New Red Fire, and Salad Bowl.  We love our lettuce; just too bad that we only get a few weeks of lettuce before they are bitter.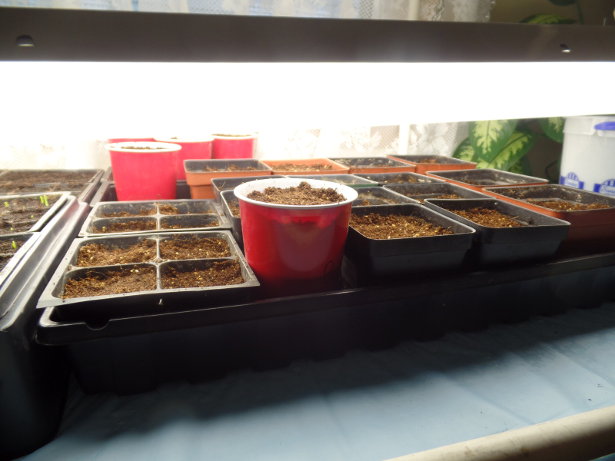 That pretty much fills out the germination station.  With having three celery cups left in the very back, I could put in a couple more plants if needed.  Might be good to start a few cucumber plants inside!
Otherwise, green beans, peas, and carrots will be the other vegetables planted.  All of those are direct-seeded into the garden.