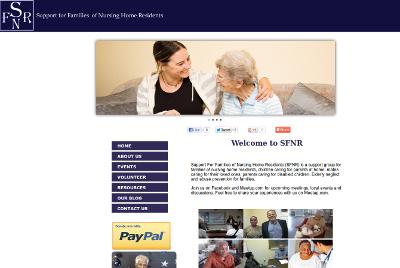 Beverley, the founder of Support For Families of Nursing Home Residents, contacted us in May asking for help with her website. Beverley already had a website up and running, but she wasn't happy with the fact that she couldn't edit or make changes to the site herself. She noted that the previous designer did a good job making the site, but she just wasn't happy with feeling locked out of her website – or trapped – because she couldn't update her own site.
We were happy to help Beverley with her request. We took the website from a standard HTML-based website to one that uses a content management system (CMS). This allows Beverley to login to an administrative panel and update and make changes to her website.
In addition, she also requested that a few changes be made to the site since we were converting it. She asked that we include a blog and a contact form – in addition to PayPal donations. We performed all of these requests – and had everything done within a few days for her.
Beverley noted over the phone how prompt and professional we are to work with. She will be spreading the word through her social channels about the work we've done and hopes that we get other customers from her sharing.