Yep – so we haven't had any good amount of rainfall for probably 2.5 weeks now.  We did have a quick downpour last weekend that gave me about 100 gallons.
But, today I used all of the water up.  No more in supply.  So I took the opportunity to get on the ladder and use the "As Seen On TV" pressure sprayer that the wife got me from Walgreens.  It has a tip on the end that is very small so the pressure pushing the water through there is fairly good.  It worked well for getting the algae off the side of the white barrel – which I couldn't see through at all.
After doing that, I put up the barrel that had a couple of holes in the bottom and tied it in.  In the picture below, you can see how on the white barrel there is still some area of darkness at the very top.  I couldn't get this area of the barrel during cleaning – but you can see the difference.
The sixth barrel in the sequence from the left side is the one I put in.  I then backfilled some water into the rain water collection system.
Welp, it didn't take long for me to see a leak from where the PVC T connector connected that barrel to the main PVC pipe underneath.  So I had to disassemble everything and use some more silicon sealant caulk around that T connector.  That means I won't be able to remove the PVC connector from that barrel now.  Oh well – I just don't want any leaks because water is sparse and I can't afford even a slow drip at this point!
Alright – moving on to the next stuff.
We've been getting quite a few Red Cherry Tomatoes recently.  Not too terribly much, but we've maybe had about a pound so far for the year.  That is already more than we had last month!  Unfortunately, I woke up this morning to go mow the lawn.  Walked out the back door and saw the huge cherry tomato plant and the adjacent Roma tomato plant flat on the ground.  I didn't take a picture of it, but I was a little devastated.
I had a small 3-foot piece of rebar in the garage so I drove it in the ground behind and in the middle between both of the plants.  I then had to take some more twine and attach both plants to it to pull them back up.
As seen above, it is still leaning a bit, but it is better than being on the ground.  All of the other tomato plants are also reaching forward as well – I suspect to try and get more sunlight.  It doesn't help that the tomato plants are all fully loaded with tomatoes – so the weight is substantial.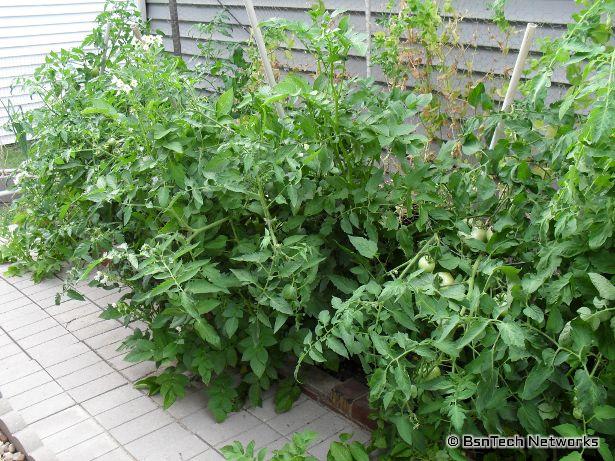 There is one Best Boy tomato that is ripening!  Won't be too much longer before this is done.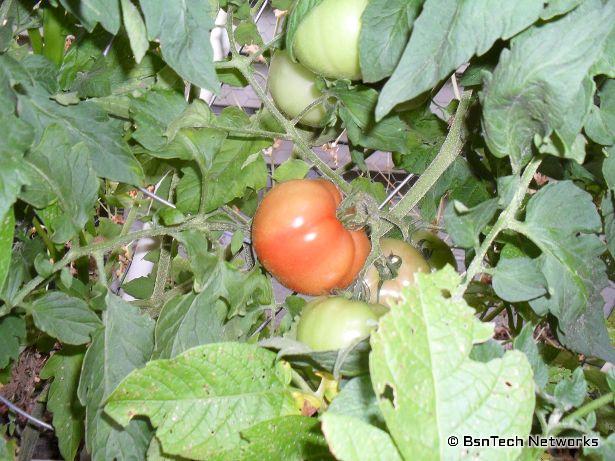 A few days ago I picked another handful of Greencrop green beans from the back garden – where it is well overgrown and the potatoes are in charge:
I put the beans up to a small tape measure so you can see how large they are.  I think that the Greencrop bean is my favorite bean thus far – over the Bush Blue Lake 74 and 274 that I planted last year.
Speaking of the green beans, these things are doing well in shaded conditions between the corn.
And they are doing well in the patio garden by the herbs.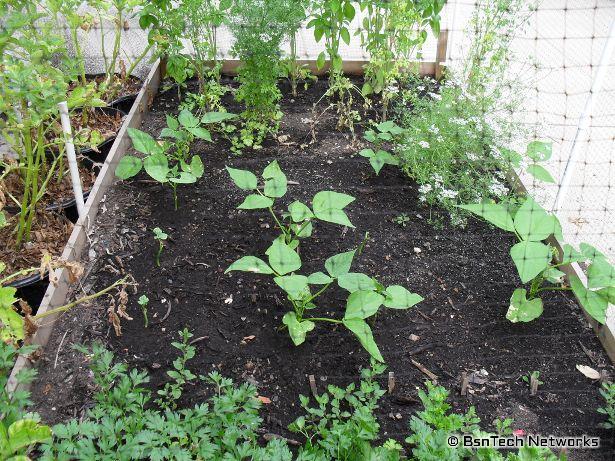 In addition to getting a few beans and cherry tomatoes, I have had a load of basil!  I actually ordered four additional trays for the Nesco / American Harvest FD-80 dehydrator from Amazon on Thursday.  They were basically $14 for a set of two – and so I got two sets of two and it qualified for free shipping!  Basically it was like getting the second set for free because shipping was the same cost as one of the sets.  This will make the dehydrator have eight total trays – which is the maximum it can have.  They will amazingly be delivered tomorrow – but it looks like they were sent out of Indianapolis which is just a couple of hours away from us.  Anyways, all of this Basil is drying on its own right now – waiting for the new trays to arrive.
That should be good for about one herb/spice bottle.  There is about five ounces of leaves there.
Why so much basil?  Well, it started putting on it's flower stalks and when it does that, production stops.  So I cut off all of the flower tops.  When doing so, this makes basil become more bushy and put on new stems of growth.  With the great taste of this basil, I don't want it to stop now!
Alright – let's look at the flowers up front.  The marigolds have filled in very well and there are hundreds of flowers in the patch!  I should sell some marigold seeds next year because I'll have thousands of them!  Last time I mentioned that we were going to put in tulips and daffodils in this area – but I've decided against it.  The bulbs would have cost over $200 for all of them that we needed.  The marigolds are just fine up in this area and they fill in well.  We may add in some additional annual flowers into the mix for next year, but I think it looks fine already.
The Rose of Sharon "tree" in the front landscaping also has several flowers on them as well.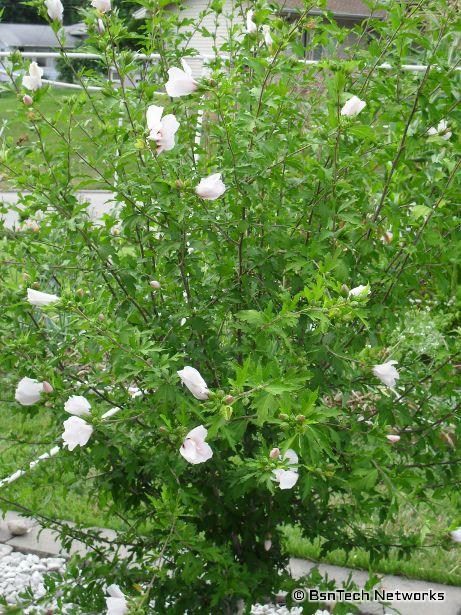 So what's left?  Oh – the front garden!  Before there, here is a small cucumber that is growing on one of the Burpee Pickler Cucumber plants.  I walked through the area where the six cucumber plants are – and so far I'm not fully impressed.  The leaves and vines are huge already – but there simply is not a lot of cucumbers on the plants – probably because the back garden is completely overgrown with potatoes!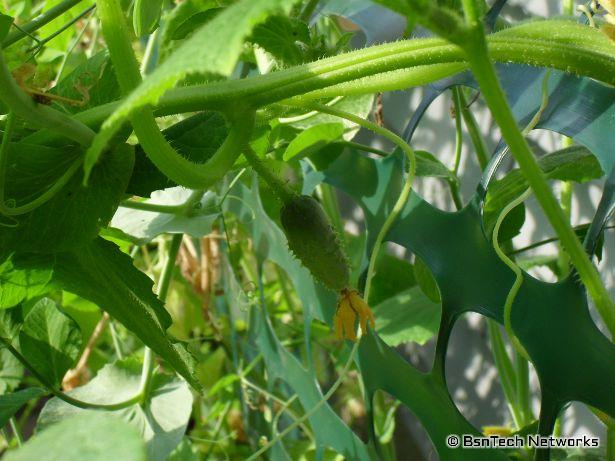 How's the onions doing?  The Copra onions are doing well!  I'd say about half of them are pretty large – larger than any of the onions that we planted from sets last year.
The Ventura celery – well, I just don't know about it.  I was hoping to see one or two of them put up some kind of seed stalk to see how it multiplies.  No such luck.  It is well into the growing period and they were started back in March.  That is about 170 days that they've been alive now – and they still just are not very big.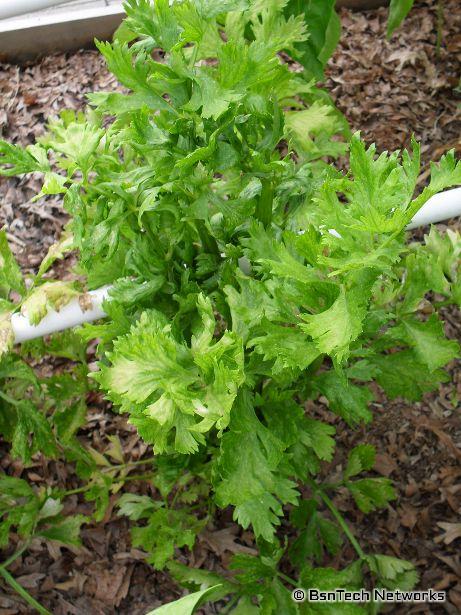 The Silver Queen corn has made a comeback!  This week and last week there have been dozens of ears that finally shot out some silk.  Many of them have two ears of corn on one stalk.  A few of them were planted a little later and don't have ears started yet, so I just hope they stick around long enough to get some pollen.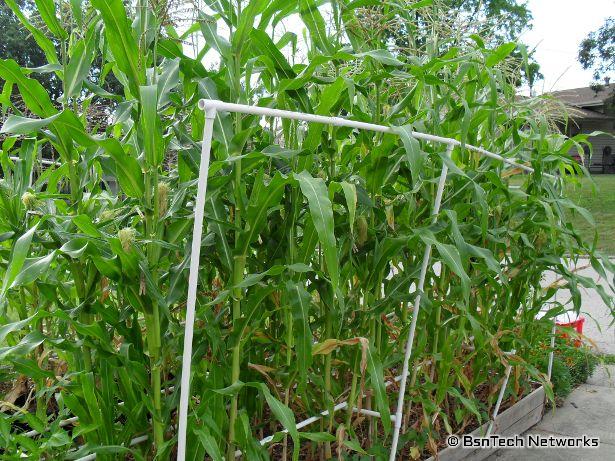 How about those clothespins by the ears?  Yep, I put a clothespin near the ear with the date on it that the silk came out – or maybe the day after the silk came out.  After 20 days from this date, I will then pull the corn.
Down to two more pictures – first off, the California Wonder peppers.  This little pepper plant looks like it is just trying to mature – but the peppers aren't nearly as big as what they were last year.  Last year the peppers were the typical bell shape and were as big as those in the supermarket!  It has just been a bit of an odd year for the peppers and even folks on the GardenWeb forums around my area are complaining about them as well.
And lastly – the strawberry patch.  I have neglected this patch for two weeks now.  A few nights ago the wife and I went out to pick some strawberries after it cooled down.  We found half of the patch laying over like it was dead.  Woops!  I haven't given them any water for quite some time and we've been in drought-like conditions for 2.5 weeks!  All of the strawberries looked like dehydrated strawberries since the plants were stealing the water from them.  So needless to say, I messed up with the strawberries and probably caused pounds of strawberries to be unusable.
Same thing yesterday; I was watering yesterday and they looked pretty bad again.  I watered them and overnight they spruced up a bit, but they still look like they need some attention.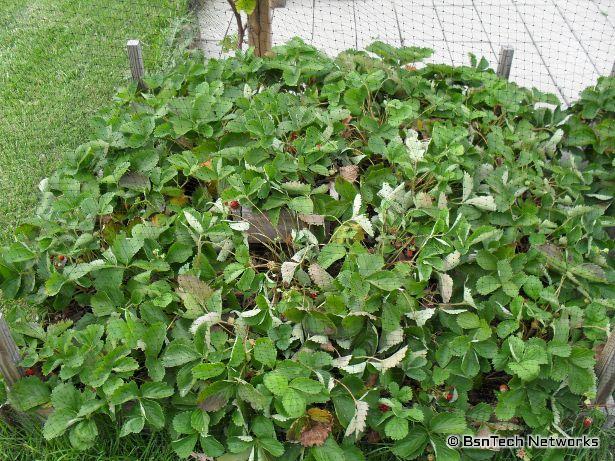 Well, that is all for this week.  We are supposed to get some rain tonight, but we'll see.  Last week they said rain two or three days with 50 and 60% chances – and we only got a small sprinkle.  All of the rain seems to be going north or south of us.