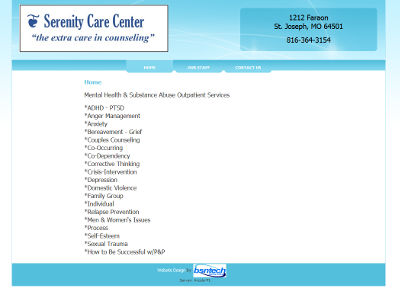 Teresa from Serenity Care Center contacted us a little less than a month ago in need of some assistance getting a new domain name and e-mail accounts setup for their organization since their volunteer IT person left. The IT person controlled the original domain name, e-mails, and website and was not going to turn it over to Serenity.
At that time, we setup everything quickly to get Serenity Care Center back on their feet with their own accounts. We also simply copied the website that they originally had.
However, Teresa wanted to move forward with having a new website created since the old site didn't have the right organization name or information.
Once we got the updated information from Teresa, we got started on the site and was done within 48 hours of receiving the information! Teresa did note that there will be some additional changes to the site in the near future, but they wanted the old website taken offline immediately.
Teresa continues to be very pleased with the service that we provide them – and even the support when they have questions that are not related to website or e-mail services.
Thank you for your continued support Teresa – and we are here to help you with what we can!
The new Serenity Care Center website is at serenitycarecenter.org.