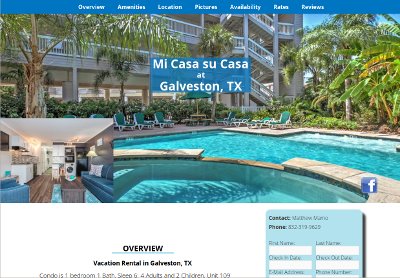 Matthew, a current customer of ours that owns and operations Team Mamo Realty, contacted us about a new opportunity – creating a vacation rental website design for his condo in Galveston, TX.
Matthew already had an AirBnB listing but wanted to also branch out and make his own website. Because he already has access to credit card processing, he wanted a site that would allow inquiries where he had full capability of receiving the payments without being charged a commission from other websites for taking rental bookings.
We showed Matthew a couple of other vacation rental websites we created and he liked the design and layout that we had setup. We added the information about his condo along with the pictures and he had a completed product!
His website makes use of an SSL security certificate so he can accept sensitive data from clients on the booking form. When someone fills out the booking form, he receives a "template" email with their information and other pre-populated boxes. He simply fills in the boxes with the amounts and sends it back to the interested party. Inside the email is a link back to his website for the page with the rental agreement and credit card form to complete the transaction.
In addition, his website seamlessly integrates with his AirBnB calendar. Once a day, his website will refresh the calendar on his website to the calendar on AirBnb – that way he only has one calendar to manage.
We appreciate the continued business from Matthew and the trust he has placed in us to manage his website service needs!
The vacation rental website design for Matthew's condo in Galveston TX is at leasemygalvestoncondo.com.