I didn't make a post last week – since nothing 'new' really occurred.  Same thing this week, but I wanted to provide a post showing the growth of all of the veggies.  They are doing quite well!
First up – the Copra Onions.  In year's past, I sometimes would cut the onions down.  Mixed results on this and some folks said it helps to stimulate root growth.  Decided to leave them alone this year.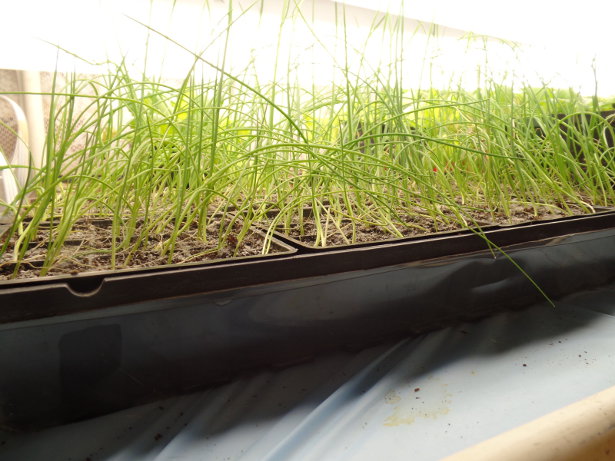 Peppers – After a few weeks, they finally all did germinate.  About five seeds were planted in each of the eight black containers.  The majority of the containers had two or three seeds germinate.  So the seeds had less than 50% germination rate.  But it is all from saved seed.  Peppers are very easy to save the seeds from and that is a nice feature.  Just wait until they are fully 'ripe' and when opening up the peppers, a few California Wonder peppers will product dozens of seeds for use the next year.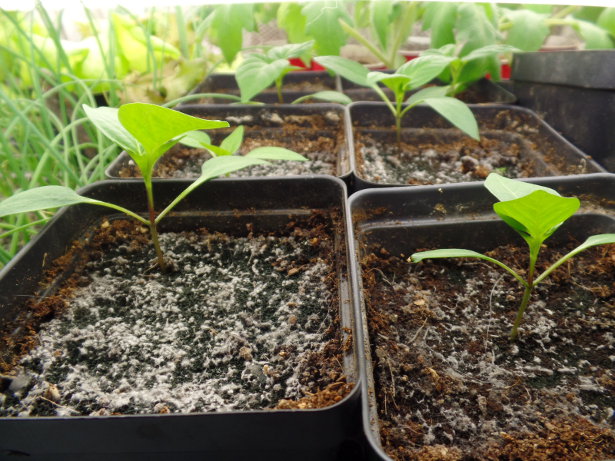 Lettuce – I got lucky!  In the last post, I had mentioned that none of the New Red Fire lettuce came up.  Well, it looks like it just took an extra week for some of the color to come out.  In the photo below, you will see one of the lettuce plants in the back that has a little bit of coloration to it.  New Red Fire lettuce is a 'pretty' leaf lettuce with the shades of green and purple.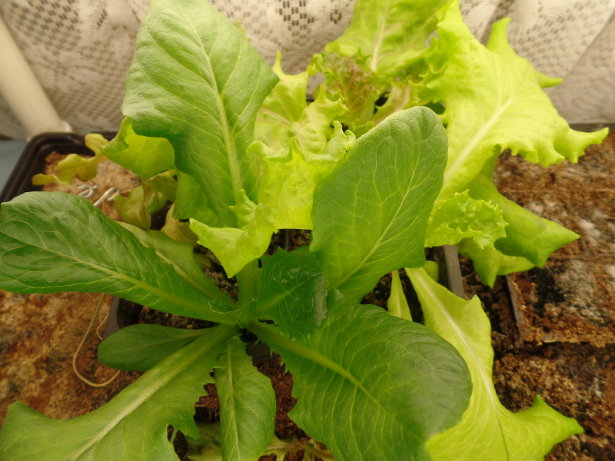 In the photo above, the Parris Island Romaine lettuce is really taking over and trying to crowed the others out!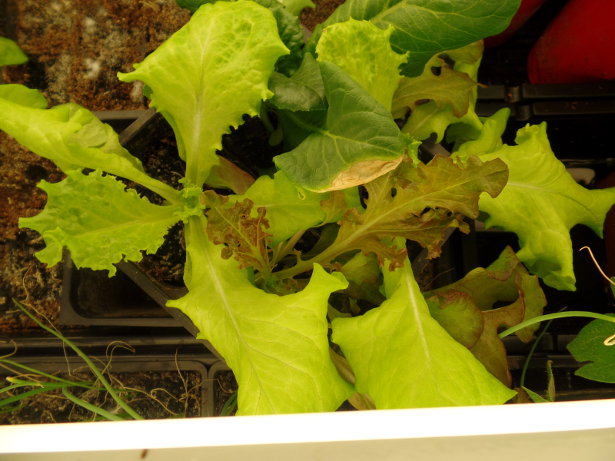 In the photo above, you can see the Red Salad Bowl lettuce towards the center of the picture.  It definitely has a different leaf structure than the other ones.
Next Up – the tomatoes.  They are growing very well and they have all been divided into separate containers.  So, a lot of tomato plants this year.  Unfortunately I have mixed all of them together now, so I am not sure which variety is where.  I believe there are two Red Cherry tomato plants and then a mix of Best Boy and Roma.  Will just have to see what we get this year.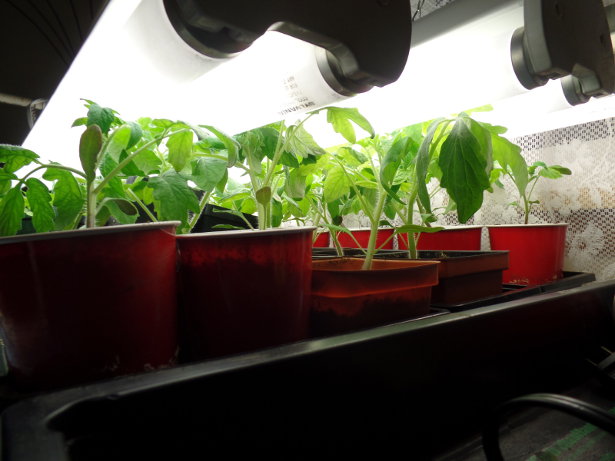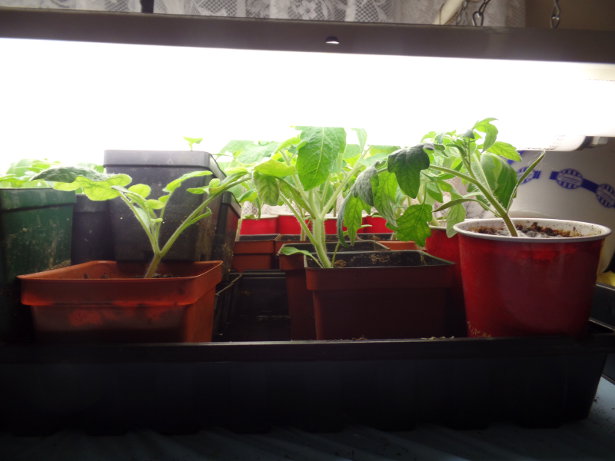 Last week, I did get out into the garden and do a little bit of work.  I never was able to get the back garden tilled in last year since it got cold very quickly.  I spread a lot of leaves over the area and they needed tilled in.  After getting that accomplished, the Cascadia Snap Peas were planted.
From what I read from the U of I Extension office, they note that peas should be planted in Central Illinois around St. Patrick's Day.  So I planted them about a week later than the recommended time.  Either way, I haven't put peas out this early before, so I am just hoping for the best.
Prior to planting, I soaked them in water for about two hours.  Then when planting them out, I am usually very picky about ensuring to put one pea seed every inch in the soil.  But this year, I made the trench and just let them fall out of my hand.  Because the seed is already about four years old and germination wasn't great last year, I figured it would be OK to overseed them – then thin any out if needed.
But a week and a half later, still none have sprouted.
So far this year, it has been pretty cool.  We have had some days where it has been unexpectedly warm – and then it cools right back down again.  The past couple of nights have been below freezing here in Central Illinois.  Based on my reminders, the 90% chance of last frost date has already past – but yet we've had at least two good freezes since then.
The onions and the lettuce are to the point where they need to be planted outside, but I don't want to risk them freezing.