Well it happened again.
The "well" ran dry. Even though the rain barrel system can hold 660 gallons of rain water, it has ran out. I had to hook the hose up today and run some water into it from the house and fill the entire thing back up.
It has been exceptionally hot over the past couple of weeks. We got a bit of a reprieve yesterday and today as the temps were in the mid 70's or low 80's. But, we're going back up into the 90's tomorrow and for the next week. It is even supposed to hit 96 degrees in a few days!
Of course, that just means a higher water need. The strawberries were looking pretty bad – but finally got some relief today with some water.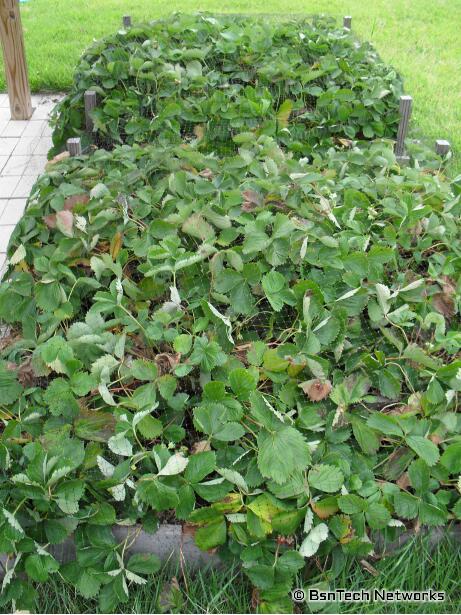 They don't look terrible in this photo I took this morning – but after I arrived home today, they looked awful.
In other news – all of the Cascadia snap pea vines have been fully removed. I know it is time to remove them when the powdery mildew starts to take over. Of course, they also quit making pea pods too. So, the side garden is looking pretty bare now. I've also removed the three last Green Goliath broccoli plants that didn't produce well in the side garden – although this picture shows them. In the front, you can see some Bush Blue Lake 274 green beans and three Crimson Giant watermelon plants.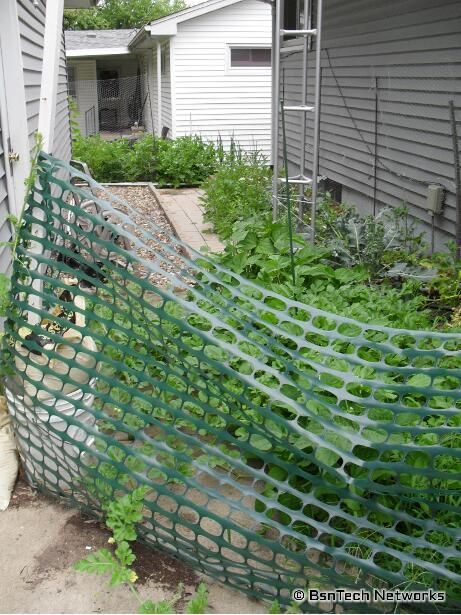 Believe it or not, there are about a half dozen watermelon on the plants thus far; an average of two per plant. A couple of them are a bit larger than the size of a softball – and here is one to show: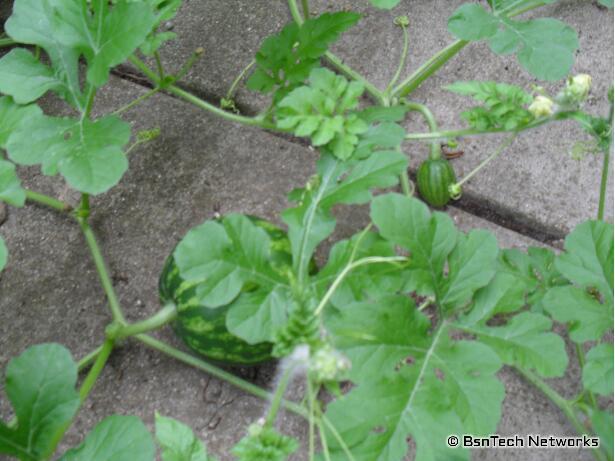 What else is new? It is onion harvest time! Well, as in my previous post, I explained how you can tell when onions are ready to harvest. On the neck near the bulb of the onion, the top growth will begin to fall over. When it does this, you know it is time to harvest. Or, if a lot of the tops start to die back – that means you may have some rotten onions. Yes, I so far have had about three Copra onions and one Varsity onion that was rotten in the ground that had to be discarded. But that is still much better than last year when there were a lot of rotten ones.
Anyways, I've collected quite a few Copra onions. Onions definitely need a lot of light. Those that I put in the cinder blocks at the back of the garage were getting crowded out by the potatoes – and needless to say, the size of those onions were probably half – if not smaller – than those in the front yard that had full sun.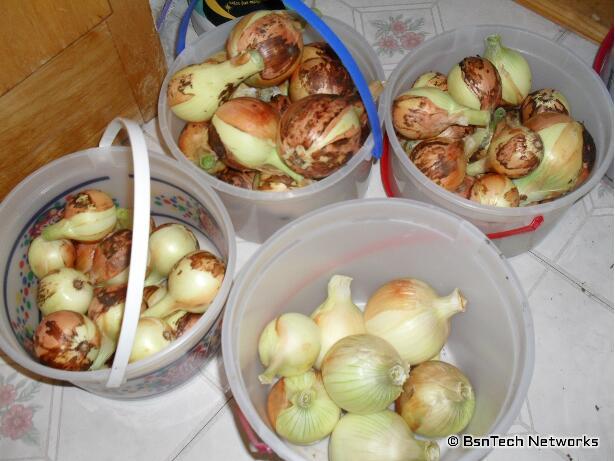 Now, compare that to the few Varsity onions that have been harvested. I so far am finding out that even though the Varsity onions didn't have as long to grow, they indeed are larger!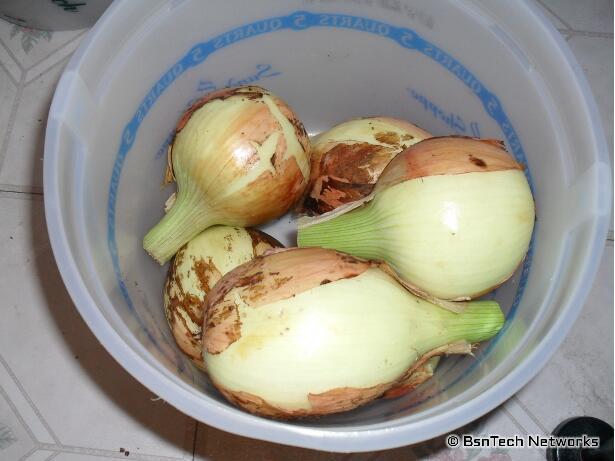 Well, I hated to see the tops to go waste – so the first harvest of onions were fully used. I cut the tops off and they were loaded into the dehydrator.
It took about three days at 135 degrees to get them fully dried out. I then crushed them up and put them in an herb container – completely filled it to the top! I then used some on some potatoes that night – and it turned the olive oil and the top of the potatoes green. Was a nice garnish although there didn't seem to be too much of a taste.
Alright – well, let's get started with the garden walk.
First up is the Anaheim Hot peppers growing in the container.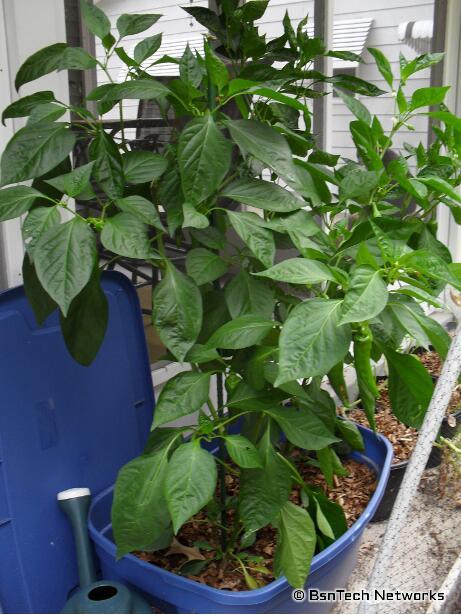 They continue to grow very well – but, I'm a bit concerned with some of the produce. Just like last year, there is a mushy brown section that is on some of the peppers. I'm not too sure what this is – but it was a problem last year and would rot out the peppers.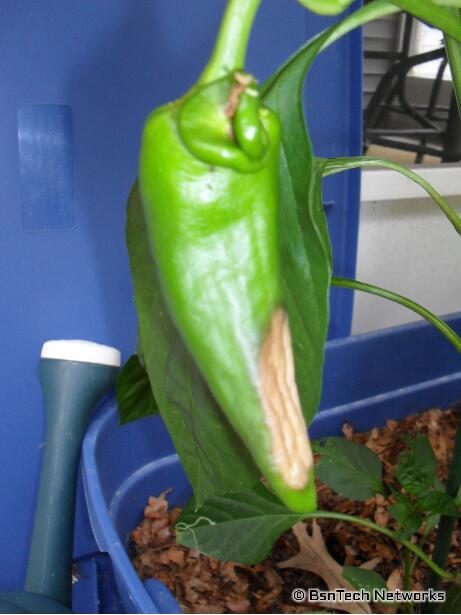 The above one is pretty bad and I hate to pick it – but I may need to in order to save what is left.
Moving on – here is the patio garden. All of the lettuce has been removed since it was no good. The basil is growing well – but because of the heat, they droop over and do not look good by the time I get home of an evening. The radishes are in the background.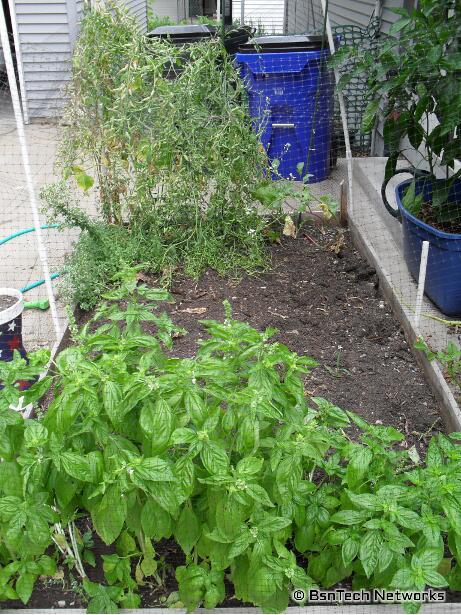 Of course, the radishes are not edible at this point. I'm waiting for the pods to fully dry up and then I can harvest the seed – so I'll be able to have Easter Egg radishes for next year! Here is a closer look of those seed pods.
Next is the back garden. Here is the full view. It seems that some of the potato vines are beginning to die back.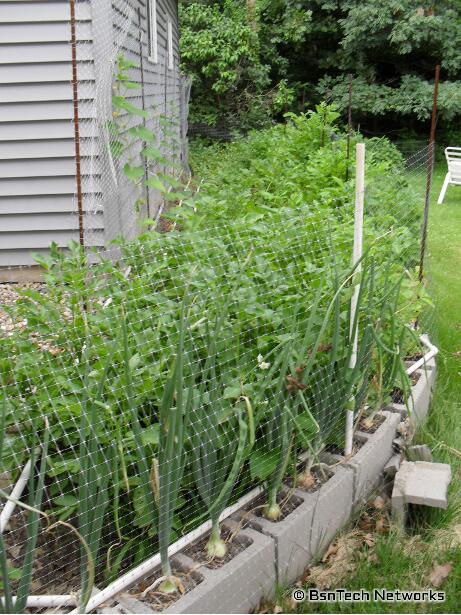 See – no more peas in the above picture. You can actually see some of the cucumber plants! Well, here are two photos showing a comparison of growth. This first one is Burpee Pickler.
Now, look at these small Little Leaf Pickling H-19 cucumbers. They are not a hybrid like the Burpee Pickler above – but they just are very small!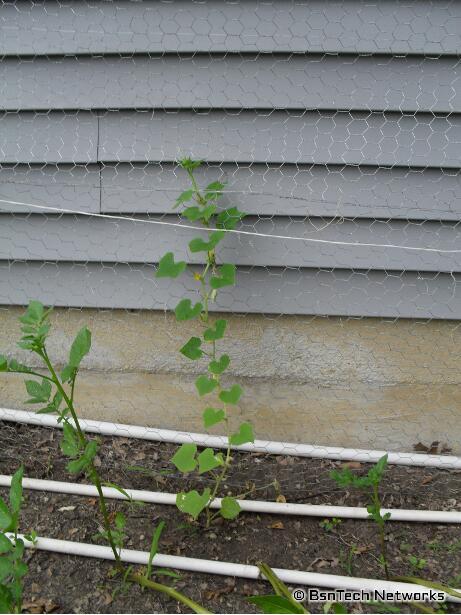 Well, a quick view of the carrot bed and the Kennebec potatoes growing in the container. Not much going on here.
And off to the front yard! I planted another 50 Bush Blue Lake 274 green beans in the flower bed this past weekend. So far, about 17 have germinated as of today. I had to get more deer netting to fully cover all of them. I originally planted about 50 in this area – but didn't have all of them covered. So, the deer got a free lunch.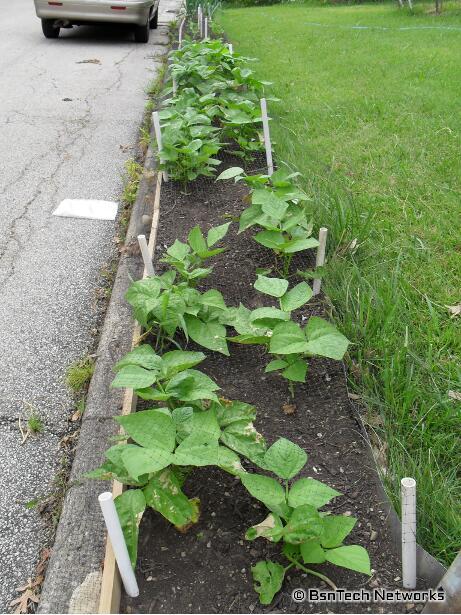 So far, we've only harvested green beans from about 20 plants – and have yielded about six pounds so far! That is already more than we had all of last year combined.
Over at the grape arbor, it is filling out quite nicely.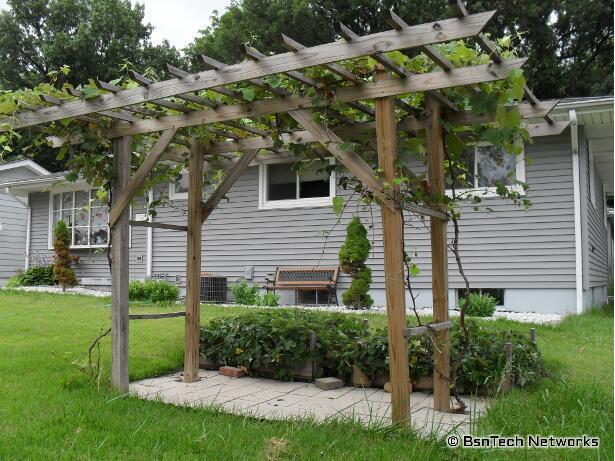 And for the main garden in the front yard. Up front is the remaining Copra onions that still need harvested. A few more fell over last night since I'd previosly picked them – but others still are not ready yet.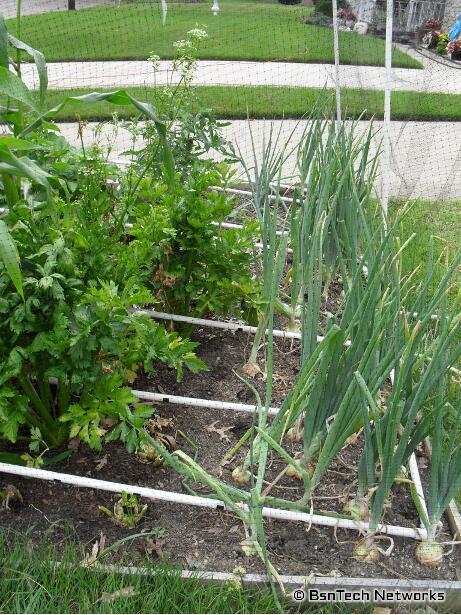 Most of all the celery has been pulled out – as you can see above. Some still remain – as I've let one go to seed so hopefully I can save some seed from it. Celery seed is so small, I'm not sure if I'll be that lucky.
But, the Honey Treat corn is still doing good! Some of it will be ready to be harvested in a few more days. So far, I'm still impressed with this variety and the number of ears it puts on per stalk.
So, how are the California Wonder peppers doing? Well, they are growing a bit faster – but still are no where near as large as the Anaheim.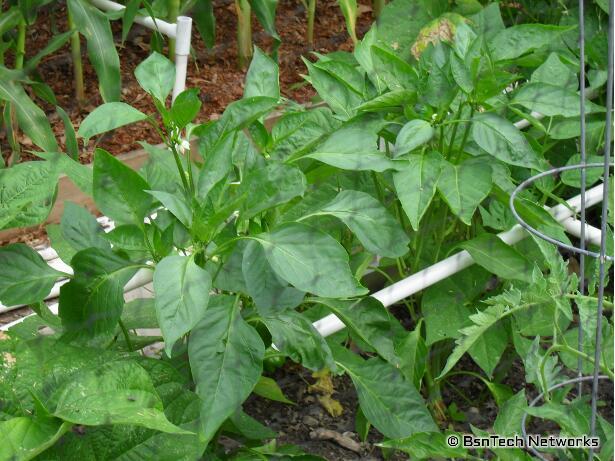 And alas – the tomatoes. We have Best Boy, Better Boy, Roma, and Red Cherry tomatoes all in this big mess.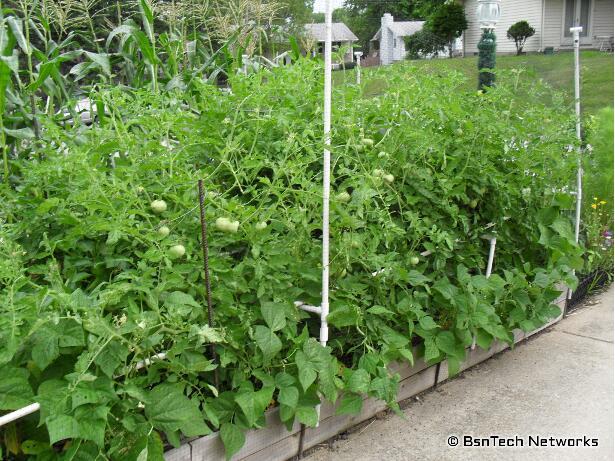 See all of the tomatoes! But not one of them is ripening up. We are eagerly awaiting to pick some tomatoes to start our salsa making process.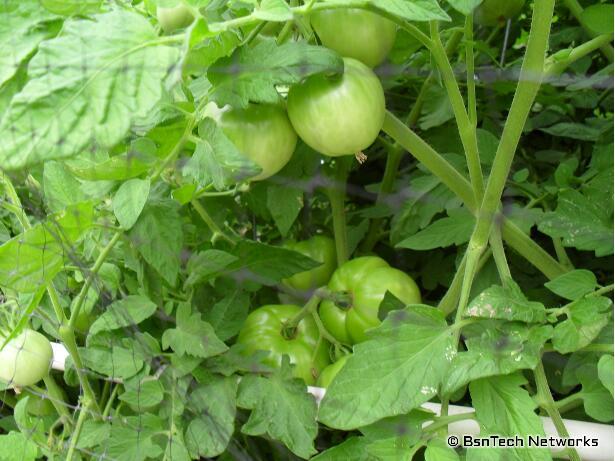 And lastly, we'll close out with a photo of the Rose of Sharon bush in our landscaping. Until next time!