We had a very nice weekend. Yesterday it was a bit on the windy side, but it still got to over 70 degrees. Today, I saw the temperature gauge outside hit about 75 degrees. Very little wind today – and very sunny.
We celebrated our daughter's first birthday yesterday – so we were quite busy with having family over.
After everyone left, I got outside and got the Cascadia Snap Peas sowed. The garden beds don't look like much right now, but these are the two areas that the Cascadia Snap Peas were sowed – alongside the house and behind the garage.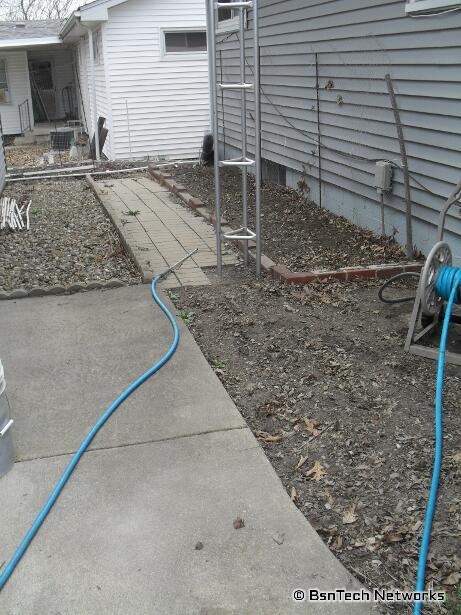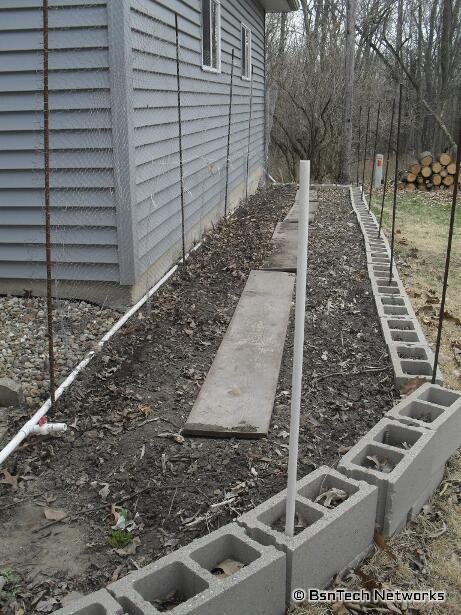 This year – I am not fully sure what else is going to go in the side garden (first picture above). I did, however, go out today and plant about seven Kennebec potatoes in that spot – but it still leaves a good area to fill in. Right near the bottom of the picture – by the garden hose – is another area. Last year I put Sweet Basil there – but it did terrible. We did Crimson Sweet Watermelon there the year before and we did get a few 13+ pound watermelons – but they didn't seem to have a very sugary taste.
Behind the garage this year (just pictured above), the peas are going by the fencing that is right behind the garage. Tomatoes will then be planted back here this year. I rotated them between the side garden a couple years back – then to the front garden for the other two years. Gotta keep a rotation of things. Just hope that the deer will stay out of them!
Yesterday I also got the rain barrel system hooked back up. I managed to break a 1/2-inch PVC pipe that comes down from the structure – but got had some spare parts and get it glued back together.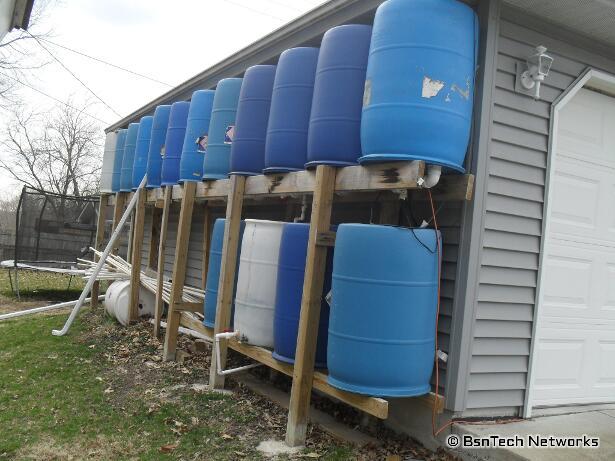 A few weekends ago, I got outside and got the grape vines all pruned back. They were very unruly everywhere – and they got a big haircut. In the picture below, you almost can't even see any vines because they were pruned back quite a bit.
Just in front of the grape arbor are two strawberry pyramids. Well, they lasted a couple of years – and last year saw the demise of all of the Tri-Star strawberries. I'm not sure what to put in this area this year. Maybe one broccoli plant in each of them – or something. Just almost seems a waste to put one plant in each of these spots.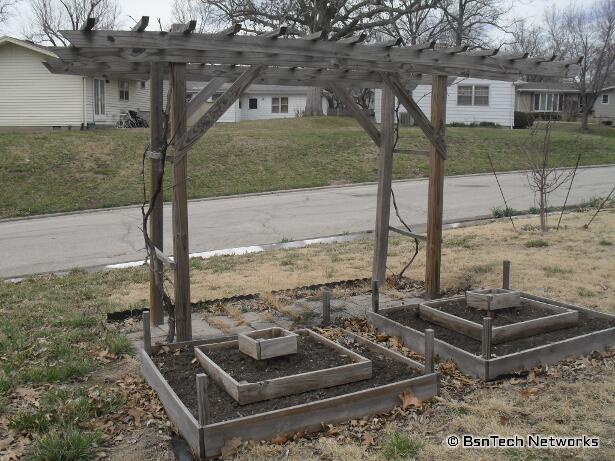 The front garden is going to be used for many purposes this year. It doesn't look like much now (pictured below) – but it will in a few weeks. The Ventura Celery is already busting at the seams waiting to be transplanted – and so are the Varsity Onions. They both wll go in the front garden along with four rows of Bush Blue Lake green beans. Some California Wonder Peppers, Snow Crown Cauliflower, and Green Goliath Broccoli will also call the front garden home this year.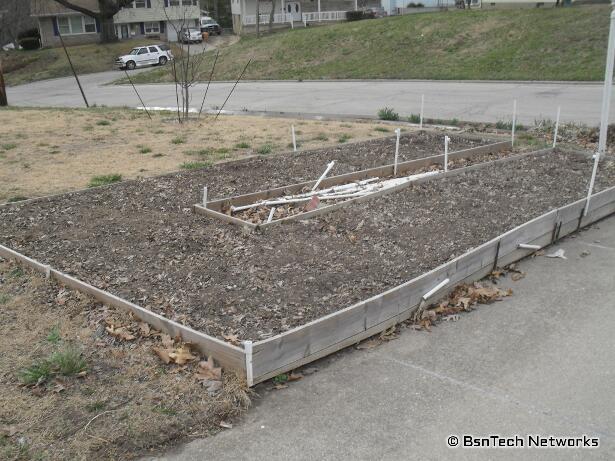 I really am beginning to miss the old house where we had a huge backyard and I could do anything I wanted – all in one very large garden. This house – there just isn't any space in the back at all. So I had to build garden beds in the front yard. But, they just don't look all that great when they become filled with produce during the summer. I'm really surprised that none of the neighbors have complained or said anything to me. But, in the sake of respect (and possible resale), I am not going to be building anything more in the front yard. It is already 'junked' up enough.
What else was done today? Well, I had to do quite a bit of work on the carrot bed that sits on the driveway. One side was really beginning to bow out towards the driveway. The carrot bed is either three or four years old – and some of the wood that was holding it together broke loose.
So I had to dig the soil out from one side of the wood and cut some new pices to get it re-aligned. I then sowed some Sugarsnax carrots and Danvers Half Long carrots. Every year – up until this year – I used to go through with a pencil head and measure two inches apart in each direction – and sow one seed individually. That took at least two hours every year. This year, I decided I wasn't putting that time into it. I just sprinkled the seed throughout the bed – and just hope that everything comes up OK.
View from the front of the drivway: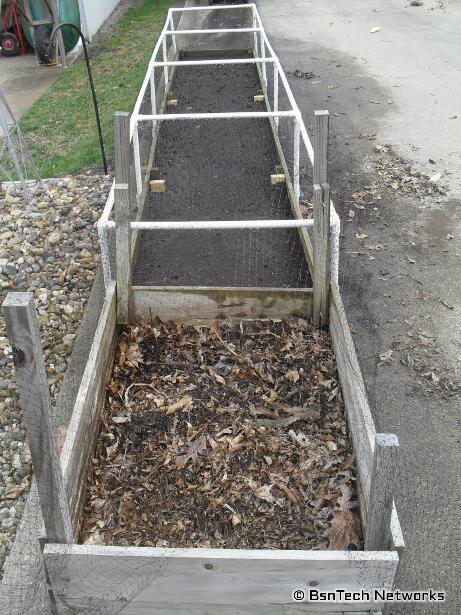 View from the back: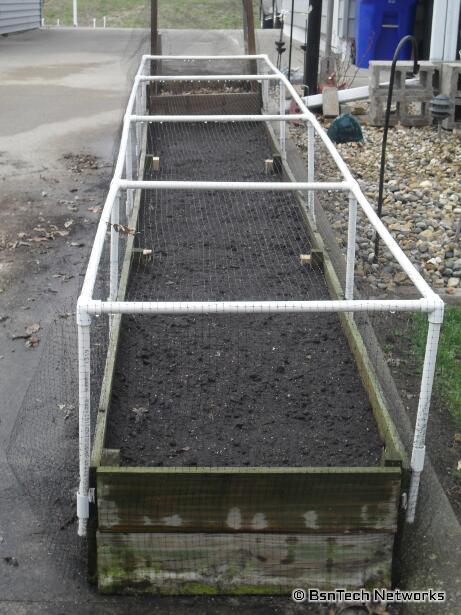 I then used a light sprayer and sprayed down the area to give some moisture to the seeds.
What did the bed used to look like? Well, below is a picture from last year. You can see the difference between the pictures above and this picture – how the one side is bowed out: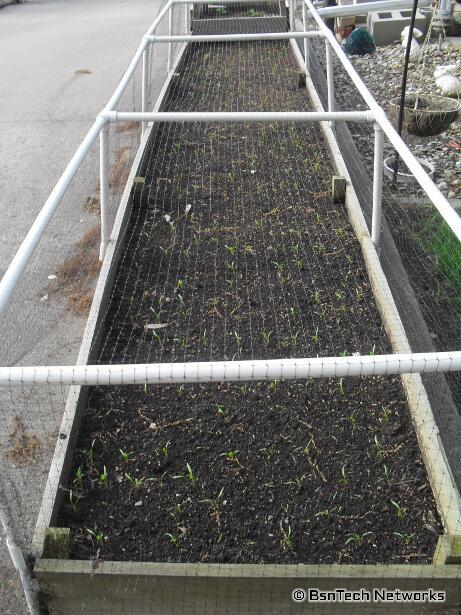 The above picture doesn't look terrible – but this year it was BAD. The bow was at least twice as wide as it is shown above.
The next area is where all of the lettuce will be – and probably some radishes will be planted here very soon. Looking pretty bare right now without anything in it. This one is also sitting on the driveway – next to the patio.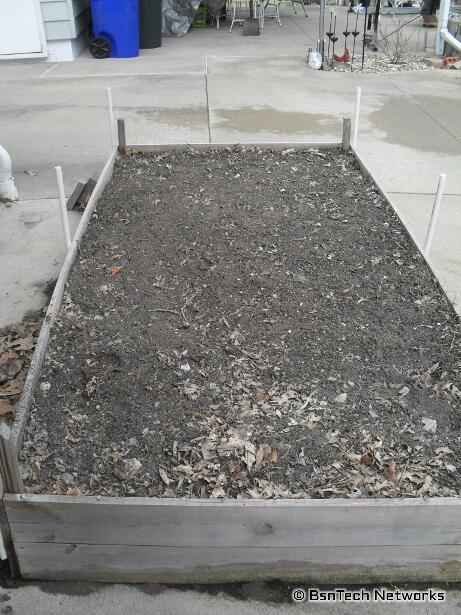 And we come down to the last photo. This is against the road – our "flower bed" as it once was. The daffodils are coming up and a few tulip leaves as well. Today, I just got done planting about 35 – 40 Kennebec potatoes here. Not great thinking on my part – but I didn't have any other place to put the potatoes this year. I've put them behind the garage for the past two years – but the tomatoes are going there this year.
When it comes time to digging up the potatoes, unfortunately the daffodil and tulip bulbs are probably going to be dug up too. So, this is why it wasn't very good thinking on my part.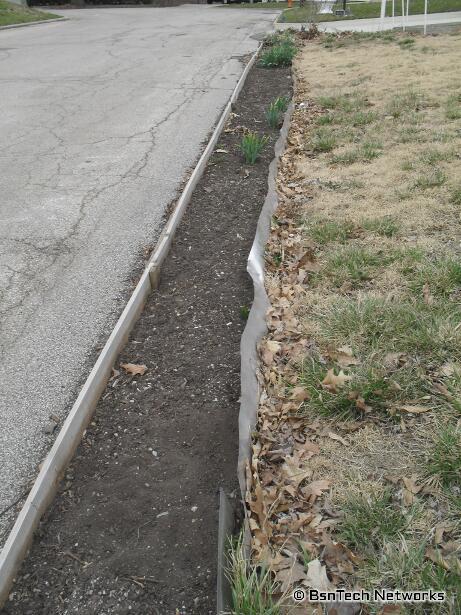 That does it for this week's edition. Maybe next week I can get some time to post as well.