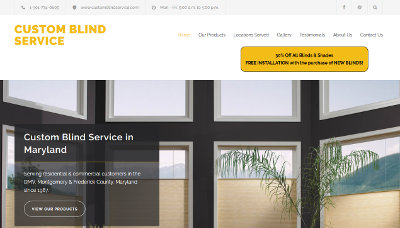 Neil, the owner of Custom Blind Service, contacted us a few weeks ago about some website needs. Primarily, he wanted to add a statement at the top of his website with a special offer he had for new customers.
After the holidays, he got back with us and said he was ready to move forward with the placement of the statement at the top of his website.
During our communications, he also expressed concerns about his prior website designer and if they 'cleaned up shop' with the site. When he searched for his site in Google, he found that some of his links coming up were still pointing to his old website, which should have been removed.
Neil did reach back out to his prior web person and they backed up the old website – which effectively removed those pages from the Internet. However, if someone were to go and do a search, the pages were now coming up as "404 Not Found". This isn't good – because it could deter potential customers and cause them to think he went out of business.
The first order of business was to get the statement added to the top of the site. It was placed under his menu navigation to ensure maximum visibility on all pages of his website.
After this was completed, we then had to do some work to make his individual town pages more search-engine friendly. They were initially only setup as "Bethesda" as a title of the page (as an example). We changed it to "Bethesda MD Custom Blinds". This was done on all 16 of his town web pages.
Once this was done, the website needed to have links pointing to these pages for the search engines to find. We created a new drop-down menu in his navigation that says "Locations Served" and added links to each of those town pages.
And finally, we completed the whole process by putting in "redirects" from his old web pages to the new town web pages. By doing so, if someone were to click on one of the old links still showing up in the search results, they would be automatically redirected to the new web page for that town – instead of getting a "Not Found" error message.
We appreciate the business from Neil!
The Custom Blind Service website is at customblindservice.com.