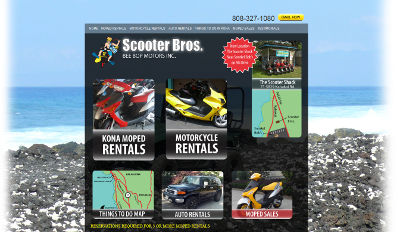 BsnTech Networks was contacted by Kimberly, owner of Scooter Brothers in Kailua-Kona, HI. She had a previous website designer that was no longer in the business – and reached out to us to have a few items changed on her site.
She requested that some pictures be added to the Moped Sales page. She also wanted to have a new page added to the site – called "Testimonials" – which would also have pictures of happy renters along with their comments.
Once we got the information from Kimberly, we worked right away on the changes and had them done in a very timely manner.
Kimberly said that the service received from BsnTech Networks was "top-notch" and she has already indicated that she will use us for any other website updates going forward.
The Scooter Brothers website is at scooterbrothers.com.