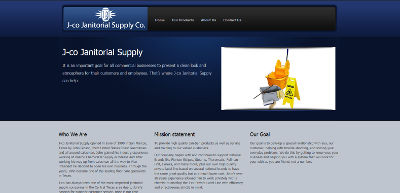 Debby, one of the owners of J-Co Janitorial Supply Co, reached out to us a few weeks back asking about some services.
The original request was to add eCommerce capabilities to her website.
When we investigated her site, we found several issues with it – which we brought to her attention. Some of them included:
The original designer still had some hard-coded links that pointed to the development site
Two domain names were being used for the site – with no primary. Therefore, it looked as though there were two duplicate sites on different domain names
Plugins were outdated and comments were allowed – causing a lot of spam messages to be entered
Upon providing this info to Debby, she requested that we take care of the initial issues first – and then the eCommerce items would be added on once she had some more time to dedicate.
BsnTech Networks got started right away – and have completed the necessary updates to her site. We setup the hosting account so one domain name pointed to one folder – and another domain name pointed to another folder with the same website.
Once the sites were copied/duplicated between the folders, one site was changed so the sites were no longer duplicated. The plugins of each site were updated, comments all removed, and commenting capabilities shut off. Finally, the hard-coded links that still pointed to the developer's site were fixed.
Once Debby is ready to start on the eCommerce portion, it will be added to one website – while the other site will remain intact.
We appreciate the business from Debby!
Their websites are at jcosupply.biz and jcosupply.com.