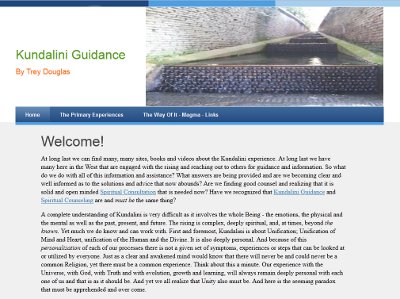 Trey Douglas had us create a website for him a couple of months ago. His idea was to put all of his three service offerings directly on the site. However, he found out that this wasn't working in the search engines very well. So, Trey contact us again to make another website for him!
We also answered a lot of questions about search engine optimization and gave him some other ideas – especially when writing the content for his new website. We set him up with a new domain name for his previous site that we created. His original domain name was exceptionally long and therefore it was shortened considerably.
Trey provided us the content for the new website and we had the majority of the site done within a few days of receiving the info. After a few more modifications and changes, he was ready to go live with the site!
Trey's new website is at kundaliniguidance.com.
We appreciate Trey's continued business – and he hopes to have us create another website for him in the near future as well!