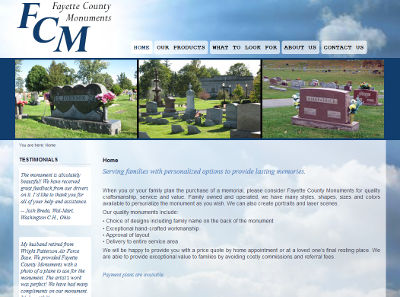 Sid, a current customer of BsnTech Networks, contacted us in regards to helping another business get a website setup – Fayette County Monuments.
Sid has been instrumental in his assistance with providing us everything we need in a very quick manner to get a website going. He provided us all of the information just after placing his order with us.
Because of that, we were able to get the website done in a very fast manner. The website includes about five pages and a slideshow. He also provided us the background image that he wanted used on the website.
We appreciate the continued business from Sid and hope that he sends more business our way for website design services!
The Fayette County Monuments website is at fayettecountymonuments.com.