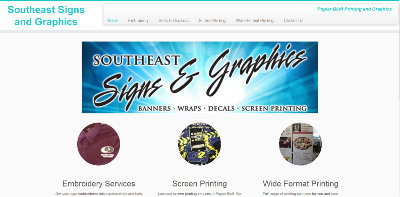 BsnTech Networks received a referral from one of our customers, Karl, the owner of both Kore Power Sports and Breakin Waves Rentals. Because of our great relationship with Karl and providing support over the years, he referred Robert to us, the owner of Southeast Signs and Graphics.
Robert attempted to make a website for his business himself, but was just not pleased with the design. Because of his thriving business, he also did not have the time to dedicate to learning or finding out how to make his website look better.
Therefore, he got in touch with us and asked us to re-create their website to make it both appealing and also mobile-device friendly.
We took the information from the old website and made it easier to read – and made a new website that was appealing and easy to read. In addition, we set up each of the pages so it contained a picture gallery of the work that was related to the service.
Robert is very happy with the new website and believes that it will help provide a more professional appearance to potential customers on the Internet.
We appreciate the referral from Karl and the business for both website hosting and website design from Robert!
The Southeast Signs and Graphics website is at southeastsignsandgraphics.com.