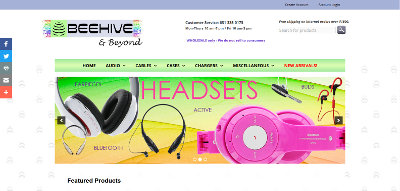 Michele and Harry, the owners of Beehive & Beyond, contacted us several months ago about their desire to bring their business online to the eCommerce marketplace.
Both have worked in the cellular accessories industry for quite some time – and were wanting to open up their own online marketplace to sell branded cell phone accessories and electronics to retail stores and customers. The website they needed done was for wholesale customers only.
Through several months, we worked very closely with the two of them to perfect the design and layout of the site. During the process, additional requirements and features were discovered as we went along.
The website is a very powerful, feature-rich website with exceptional features that make their website stand out above the rest that BsnTech has done in the past, although at a cost sufficiently higher than what our typical website customer requests.
After a few weeks of entering their products and testing the site, the website was fully published and approved.
We will be working with Michele and Harry soon to start their second website offering.
The website for Beehive & Beyond is at beehiveandbeyond.com.