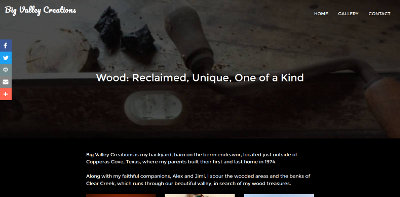 Lisa contacted us about a week ago needing help with a website. She initially signed up for Squarespace and got a domain name with them, but was having a hard time creating the website. She said that it was much more difficult than they led customers to believe.
So she asked us to make the website for her. We also assisted her with transferring the domain name and setting up the website hosting account as well.
Lisa supplied us with the info she wanted for the site over the course of the week. Some storms and bad weather caused some Internet issues for her, which slowed down the sending of pictures and material.
But, the work was done, and she is extremely pleased with the website. We are glad that we could help rescue Lisa from Squarespace and provide her an easier-to-use website solution.
Lisa's website is at bigvalleycreations.com.