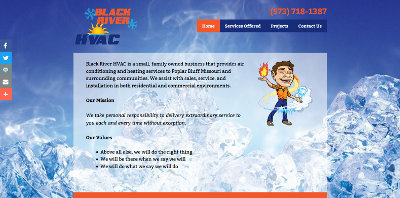 Roger, the owner of Black River HVAC, was referred to us by Robert at Southeast Signs and Graphics, one of our current customers for a few years.
Roger started a small heating and air conditioning business in the Poplar Bluff, MO area and wanted to get a simple site put together. We sent him a couple examples of our prior HVAC websites and he immediately liked one that we did for another customer about a month ago.
We got started on the site and they sent over their logo, information, and pictures to put on the website. Within a week, the website was completed and approved.
The website is live and they are open for business!
You can see their site at blackriverhvac.com.