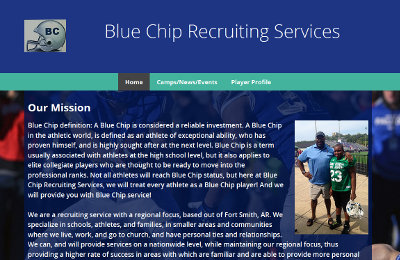 Ike, the owner of Blue Chip Recruiting, contacted us a couple years ago asking about website design services. At that time, he was shopping around to look for a designer and get rates.
In the end, Ike chose another individual to set him up a website, which was through one of the free providers. However, Ike then got back in touch with us a couple weeks ago and said that he was ready to have a better website created – and one that he could update and change himself. The prior web designer setup the website under their control and didn't give Ike access to make any updates.
Once Ike was ready to proceed, we obtained the information to get the website started. In about 24 hours, Blue Chip Recruiting had a new website setup. After a few small changes, the site is now live and published!
We appreciate Ike coming back to us so we could assist with his website design needs.
The website for Blue Chip Recruiting is bluechipfootball.info.