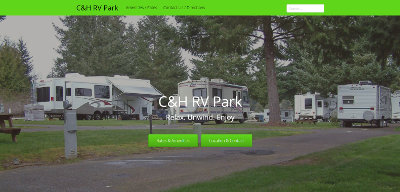 Chol, the owner of C&H RV Park in Moundsville, WV, contacted us a couple weeks ago to get a website made.
The website hosting and domain name was already taken care of, and Chol had attempted to already create a website. However, Chol opted to reach out to us to create the website instead.
We put together a simple website design for C&H RV Park consisting of three pages. Chol noted that the main purpose of the site was to get employees that work in the oil and gas industries to find the website and setup reservations. C&H RV Park offers RV sites, RV rentals, and Tiny House rentals.
In addition, Chol also had us setup Google Places listings for each of the two locations to get found in the local search results.
We appreciate the business from C&H RV Park!
Their website is at chrvpark.com.