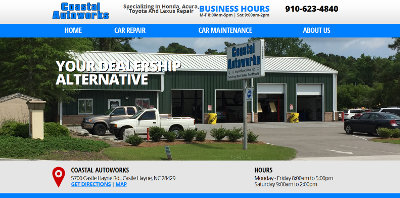 Kevin, the owner of Coastal Autoworks, contacted us about two weeks ago asking about our website design services.  Initially, he preferred someone local to his area near Castle Hayne, NC but in the end, decided on BsnTech because of the turn-around time we were able to provide.
Kevin provided us the material for the website very quickly along with the layout/design that he wanted.  We got the initial draft completed the same day that he completed the order.
Over about a week's period of time after that, we worked to modify the slideshow pictures along with the header of the site.  Late last week, he approved of the website and was very impressed with the work and the turn-around time that we provided as promised.
We appreciate the business from Kevin!
The Coastal Autoworks website is at coastalautoworks.com.