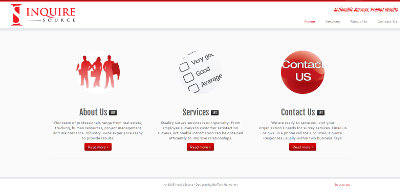 Polly, a representative of InquireSource, contacted us on Monday asking for help with a website.
She got an account at one of the other large hosting providers and already had a few email accounts setup along with the domain name.  In addition, she tried using their website builder but spent several hours using it and became frustrated with attempting to make a website herself.
Therefore, she reached out to us to help make a professional website for her and to alleviate the stress.
Polly was very quick to provide us what she wanted on the website – which was sent to us by the next morning.
We worked right away on creating the website and had the site done within about six hours of her sending the information to us.
Today, Polly has looked at the website and is exceptionally satisfied with what she saw.  An e-mail from her said:
"I love it!  As you said, very clean and professional and more than I could have asked for.  What do you need from me now and how do I leave a review for your services?"
We appreciate the business from Polly and are happy to have exceeded her expectations.
The InquireSource website is at inquiresource.com.