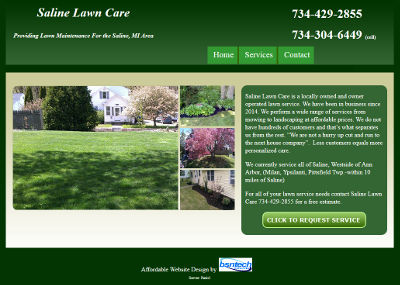 Mike, the owner of Saline Lawn Care, inquired with us over the weekend about having a website created for his lawn service business. He already told us exactly what he wanted. There was a site we did for another lawn company – GR Lawn Service. He noted that his website should look exactly identical to it – although with different text and pictures.
Mike originally had contacted another company to make a website for him – but they only setup a "framework" for a site and made him try to do the rest of it. Well, he was not at all happy with how this was done. Therefore, he was concerned because our low rates were too good to be true.
He did some reference checks and as we expected, the customers he contacted all said that we were absolutely great to work with and that they recommended us for any website services.
With that, Mike paid the initial amount today to get started. Within less than two hours, his website was completed and published!
Mike was instrumental in providing us the exact details that he wanted on each page. He provided us documents with the text for each page along with the pictures. This greatly helped us ensure the site was setup quickly.
What was Mike's deadline? August 25th. We exceeded that by seven days – the same day that he placed his order!
Mike said in his final e-mail to us – "I'm happy with all of this and i'm shocked by how quick, easy and i didn't even talk to u on the phone and i have a website now to show people and hopefully gain more customers. I hope my business grows so that i can add a few more pages."
We appreciate the business from Mike and look forward to making a logo for his business sometime soon!
The Saline Lawn Care website is at salinelawncare.com.