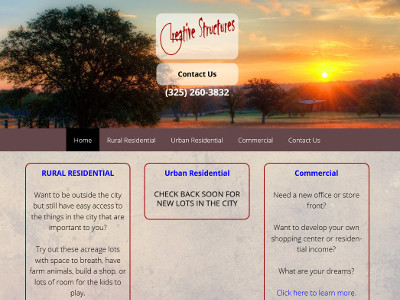 Skip, the owner of Creative Structures, LLC – reached out to us last week about our website design service. He needed to get a simple website created for his land and development business in the Abilene, TX area. His needs were very basic with only the creation of a few pages, a contact form, and ensuring the site was mobile friendly.
Upon receiving the initial amount to start, we began on the site right away. Skip also requested that we setup just the layout/design of the site and he would add the material in himself – this way it would also give him some practice on managing the website as well.
We checked in with Skip today and he said everything was ready and approved. We hope that we've exceeded Skip's expectations to win the business for his non-profit organization as well.
The website for Creative Structures, LLC is at creativestructures.net.