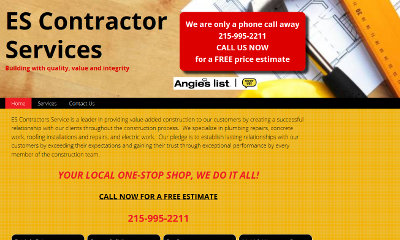 Steve, the owner of ES Contracting Services, contacted us several weeks back to create a very simple website for his general contracting service business out of Philadelphia.
He already had an exact design that he wanted us to create for him.  He provided the text material and we had the website up within a few days.
Steve then registered a secondary domain name and had some changes that he needed to be made on the site.
While all of the changes were done several weeks back, we had difficulty getting the two domain names transferred from the other company he registered them through.  We have finally been successful in getting the domain names – and have now considered his project completed.
The website for ES Contracting Services is at mrjbcontractor.com.