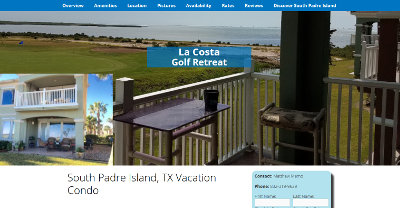 Matthew, the owner of Team Mamo Realty, asked us a couple months ago to create another vacation rental website for one of his new clients.
His new client has a vacation rental in both Galveston, TX and also in South Padre Island, TX. The vacation rental websites he has had us create in the past only had one unit on them, so this site was slightly different.
The opening or 'landing' page has a picture of each unit along with their review rating and starting price. When clicked on, it takes you to that specific listing with the details for the unit.
Matthew approved of the website this week and it is now open!
The website for My Family Condo is at myfamilycondo.com.