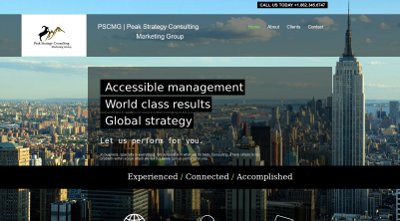 Kevin, a customer of BsnTech for a few months, contacted us this week and said he had some more website projects for us to complete. He created the sites using WIX and asked us to replicate the sites so it wouldn't have the WIX advertising on it. He also did not want to use WIX as the provider.
The first site on the list was for a marketing and consulting agency. The site he made was very professional and had some great effects to it. This included a slideshow of clients and a contact form.
We completed the site in just two days – and have already uploaded it to his hosting account.
We appreciate the continued business from Kevin!
The marketing and consulting agency's website is at pscmg.com.