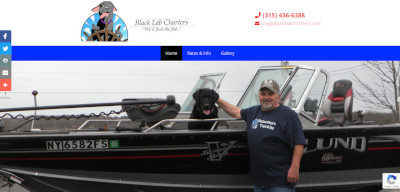 Craig, the owner of Black Lab Charters, contacted us in mid-February to ask about our website services. He has a boat and wanted to begin offering fishing charter services at Oneida Lake in New York.
Yesterday, he called us back and was ready to get started on the site. He had to wait a few months to get his Coast Guard certification before beginning.
Craig had all of his information ready and quickly sent all of it over within an hour of paying the initial invoice. We worked the same day to get the website put together and it was 95% completed.
This morning, we had a phone call with Craig to go over the changes he needed done on the site. 30 minutes later, the website was approved and launched!
We also assisted Craig with getting a Google Business listing as well.
The website for Black Lab Charters is at blacklabcharters.com.