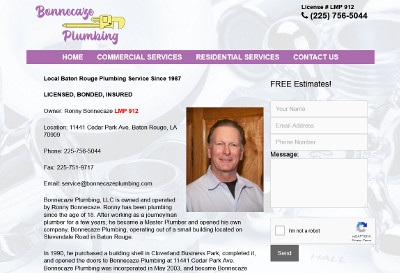 Ronny and Dot, the owners of Bonnecaze Plumbing, reached out to us wanting to get a website created for their plumbing service. They have already been customers of BsnTech for a few years with their Bonnecaze Farm business.
We received some example websites that they wanted their site to be similar to along with the info to place on the website. When we received their logo, it was a picture of an embroidery on their shirt – which wasn't very good quality. So we offered to re-create the logo for them so they would have a print-grade graphic and so it would look professional on their website. They agreed to have us assist with the logo as well.
Today, the website was launched and completed!
The Bonnecaze Plumbing website is at bonnecazeplumbing.com.