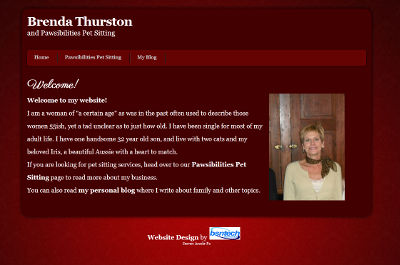 BsnTech Networks received an inquiry from Brenda Thurston – yesterday – regarding help with website design services.
When we called her back in the evening, she explained her situation.
She had a domain name that she got through WordPress with a website. However, she had two other WordPress sites that she setup – one for her dog sitting business – and one for a personal blog.
She was very confused about what she had done – but essentially, she wanted to have just one website with everything on it that worked under her domain name.
Upon getting the list of items from her that she wanted, we explained the difference between using the free WordPress site versus having one that could be customized to her liking that is hosted with us.
After she agreed upon having us host the site, we got to work quickly to make her website. Her color scheme was done along with all of the material from her other three WordPress sites.
Today, she approved of the site and was ready to take it live! We have already initiated the domain name transfer and we will be managing that on Brenda's behalf.
We appreciate the business from Brenda to help her with her website services!
Her website is at brendathurston.com.