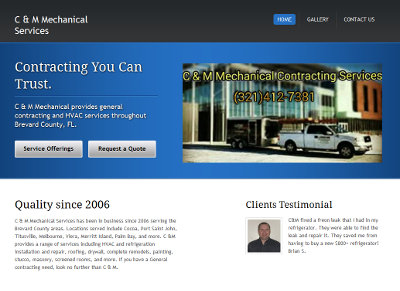 Every now and then, BsnTech Networks will barter services with customers in order to help our customers with the cost of getting a website created and online.
In this case, that is what happened with John at C & M Mechanical Services in Melbourne, FL.  The owner of BsnTech Networks has a few homes in the Brevard County area used for rentals.  When a problem occurred with a refrigerator at one of the rental homes, John was contacted for repair.
John went to the home to take care of the fridge situation – and in exchange, we registered a domain name, took care of a year of web hosting, and created a basic website for him.  It was a good situation for both of us since John noted he was trying to have a website made but the person he contacted was taking too long and wasn't very responsive.
John sent us over several pictures, which we put into a picture gallery for him.  We then made the home page appealing with a little information about the company, a testimonial from us, and a quick description of the main services he offers.
We appreciate the relationship that we have with John and hope we continue to have him as a valued customer for many years!
The website for C & M Mechanical Services is at candmmechanicalservices.com.