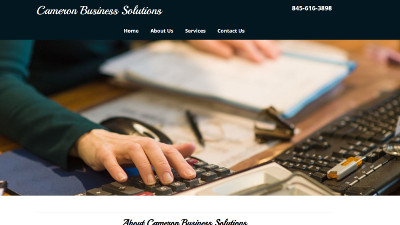 Jennifer emailed us about our website design services. She saw our advertisement four our low cost website design services and was interested.
We explained the pricing and what it included to her and she was ready to get started.
Jennifer owns Cameron Business Solutions and she specializes in payroll and bookkeeping services.
We started out with making a simple website for her and we explained that additional features could be added to the site as her business grows. She liked the idea that she can start with a small, low cost site and work up to something larger if necessary in the future.
We appreciate Jennifer choosing BsnTech Networks for her website design and website hosting needs!
Cameron Business Solutions website is at cameronbusinesssolutions.com.