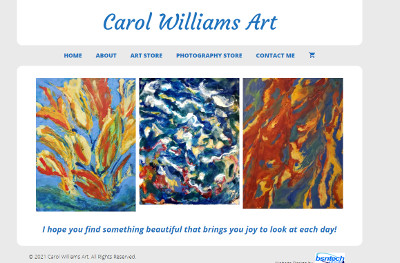 Carol emailed us in March looking for some guidance on creating a website. She is an artist and was interested in getting some pricing to create a website where she could sell her art work.
She already had a domain name chosen and we were able to secure the domain name for her along with the website hosting and the necessary security certificate for eCommerce sites.
Her website has four pages and a basic contact form for inquiries. Carol worked on gathering some pictures and info that she wanted to have on the website and we added those items when they were received.
The eCommerce integration is done with PayPal and fixed shipping costs.
We appreciate the business from Carol!
Her website is at carolwilliamsart.com.