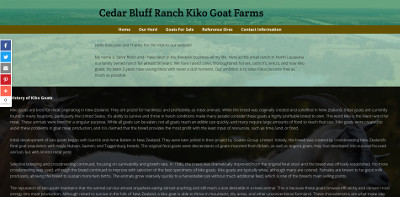 Steve contacted us last Saturday needing some help to create a website for his farm. He specializes in raising Kiko Goats and his farm is called Cedar Bluff Ranch Kiko Farms in Northwest Louisiana.
He was ready to get started right away during our phone call so we moved forward very quickly.
Steve sent us information to put on the website by Monday morning. On Monday, we had the majority of the website setup and ready. Over the course of the week, he sent a few extra pictures, information about him and the farm, and we finalized the design on Thursday night.
The website is now launched and live!
The website for Cedar Bluff Ranch Kiko Farms is at cedarbluffranchfarms.com.