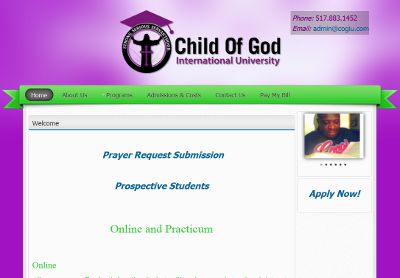 Katrina from Child of God International University (COGIU) contacted us several months ago in order to create a website for her new small business. She saw our advertising with our website special that we offer.
Katrina already had her domain name and website hosting through another provider – so she didn't qualify for our lower-priced website design services. Even with that said, she still was very pleased with the affordable website design services that we provided her. She got a feature-rich website with several pages, a contact form, PayPal integration, and a slideshow for a rate that was lower than her expectations.
We worked with Katrina as we received the information to put on her website and are thankful for the business that she provided us.