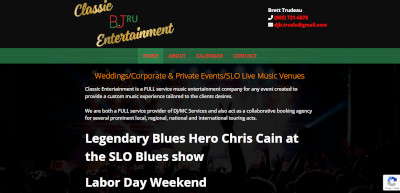 Brett contacted us a couple of weeks ago asking about our website services. Brett owns Classic Entertainment of San Luis Obispo and he wanted to get a site up and running quickly. He offers local entertainment services such as DJ/MC services and he also acts as a booking agency for local and touring acts.
Brett's site is a four-page site with mobile device compatibility and a basic contact form. We worked to get the site done within 24 hours and "turned over the keys" so Brett could manage and update the site as needed.
We appreciate his business!
The website for Classic Entertainment is at classicentertainmentslo.com.