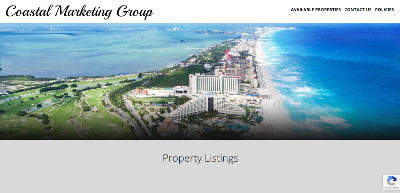 Steve, the owner of Coastal Marketing Group, reached out to us to have us create another website for him. Over the past year or so, he had us create two other websites for him. Due to our responsiveness and pricing, he asked us to create his third website – a more "upscale" site.
Steve is in the business of renting and selling timeshares. With the new website, he wanted the ability to list properties individually and upload pictures, put description information, and generally make a "real estate listing" for each available unit.
We delivered for Steve and they are going to begin adding the listings on the website!
Thank you for the additional business Steve and we look forward to assisting with any other projects in the future.
The Coastal Marketing Group website is at coastalmarketinggroup.org