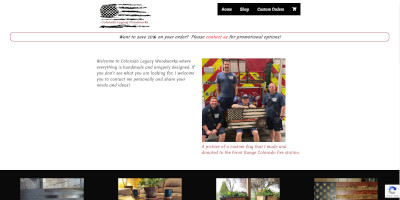 Connie contacted us and wanted to get a website created for her woodworking business – Colorado Legacy Woodworks. She specializes in making various versions of American flags and also some other furniture like planter boxes. She also custom creates her crafts based on what an individual would like.
We've worked with Connie over several months to work on her site, since she had other pressing matters to contend with as well. The website is an eCommerce site with mobile device compatibility, a basic contact form, and a custom order form.
The website is open for business and she can take orders!
The site for Colorado Legacy Woodworks is at colwoodwrks.com.